When it comes to timeless outerwear, the denim jacket (also known as the jean jacket) is virtually invincible. From rugged ranchers to urban style influencers, it's an integral staple in any man's wardrobe. Even if you find yourself somewhere in between those two extremes (as most of us probably are), there's a men's denim jacket out there waiting to be adopted into your closet this season.
If there's one jacket that started it all, it's the Levi Strauss Type 1. Introduced in the early 1900s, this garment quickly became a workwear essential. And like other style staples with utilitarian origins, the denim jacket soon infiltrated the fashion universe. Reinvented by menswear designers the world over, today's jean jacket comes in a dizzying array of denim variations, including white jean jackets and black jean jackets, all accented with unique details like intricate embroidery, warm sherpa linings, and even decorative patches.
How to Wear a Jean Jacket
When it comes to wearing denim jackets, there are a few key considerations to bear in mind. First, the occasion: The beauty of a denim jacket lies in its chameleon-like ability to blend into both casual and semi-formal settings. For a laid-back weekend jaunt, team a light-washed denim jacket with a crisp white T-shirt, black jeans, and a pair of sleek sneakers. For a dinner date, opt for a dark wash jacket, a black turtleneck, tailored trousers, and Chelsea boots.
The type and wash of the jacket also play a critical role in dictating the overall vibe of your outfit. Lighter washes exude a relaxed, vintage charm, making them perfect for daytime and more casual outings. Darker washes lend a more polished, contemporary edge, making them suitable for night-time engagements.
The fit of your jacket is another essential factor. As a rule of thumb, the jacket should hug your shoulders, and the hem should fall at your waist. A slim-fit jacket works well for a modern, streamlined look, while a relaxed-fit jacket can add an element of nonchalance to your ensemble.
Our advice? Don't shy away from experimenting with layers. A denim jacket can serve as a stylish middle layer between a tee or a button-down shirt and a heavier overcoat. And remember, it's not necessarily a faux pas to wear denim-on-denim (a.k.a., a Canadian tuxedo). Just make sure there's enough contrast between the washes of your jacket and your jeans to avoid a monotonous look.
Finally, the beauty of the denim jacket lies in its ability to age gracefully. As it wears, it will develop a unique patina and character that reflects your individual style and experiences. Wear it proudly and let it tell your story.
Below, we've compiled our favorite denim jackets available now. Pick one up and enjoy it for years to come—just like the original, each one is guaranteed to get better with age.
Related: The Best Men's Sneakers of 2023
The Best Men's Denim Jackets of 2023
A time-honored classic, Levi's latest vintage-inspired Type I trucker continues to update the landmark 1936 version (though the brand produced denim jackets even before that). This utilitarian jacket has a double-pleated front, adjustable cinch back, and a single chest pocket. Though it's cut to a relaxed fit, you'll want to size up if layering over a thick sweater or hoodie. Looking for a white jean jacket? The Type I is available in an off-white colorway, too.
[$98; amazon.com]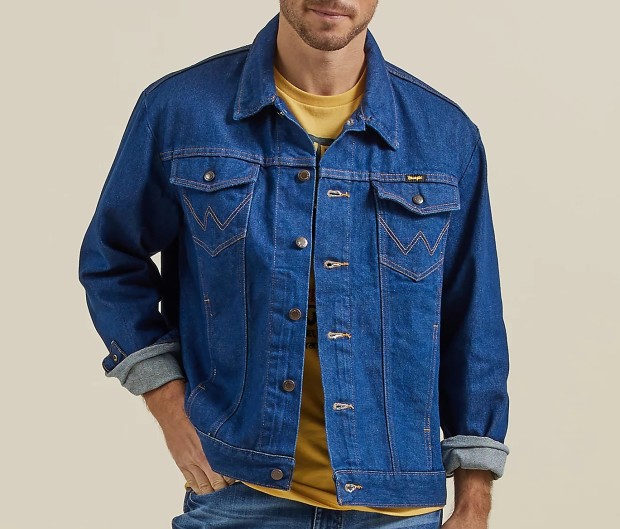 While it doesn't have quite the same icon status as the Levi's Type I, Wrangler's Cowboy Cut denim jacket is a head-turner that serves up a hefty dose of Western-inspired style. It's unlined for maximum layering ability, and the snap-closure flap pockets feature bold "W" stitching. At $49, this jacket is a serious bargain, and it's available in tall sizes, too.
[$49; amazon.com]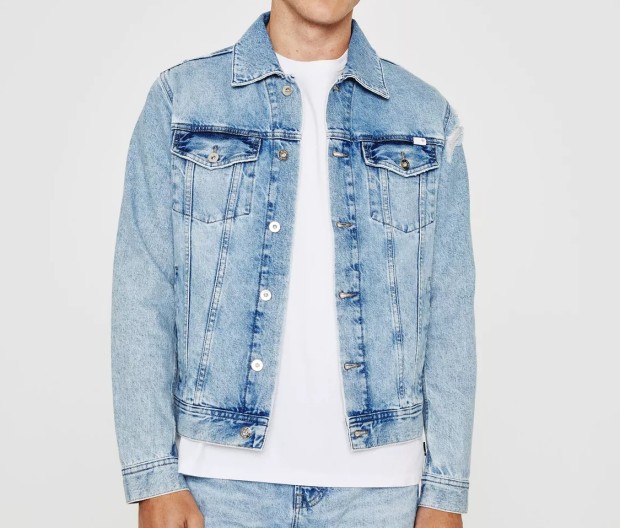 With a nod to enduring style and conscious craftsmanship, AG presents the latest version of its Dart denim jacket. This classic trucker-style jacket comes alive in a light, 22-year "Tallahassee" indigo wash, and the distressed finish (note the tear on one sleeve) gives it a distinctive look. The Dart is skillfully crafted from 12-ounce 3/1 Recycled Denim, which is made with 60-percent recycled cotton for a lighter environmental impact.
[$275; amazon.com]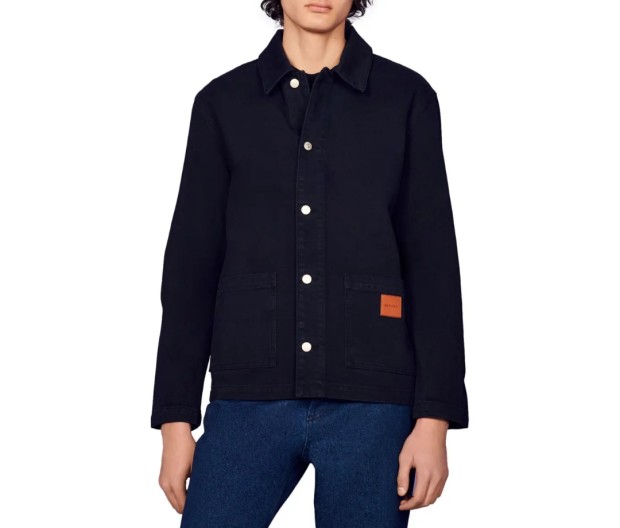 This lightweight and breathable jacket, cut from organic cotton, redefines the classic denim trucker. Its streamlined silhouette features subtly distressed details, a pair of practical hip patch pockets, and gleaming metal buttons. The jacket's thinner material perfectly suits a French tuck, and it works well in both casual and polished outfits.
[$370; nordstrom.com]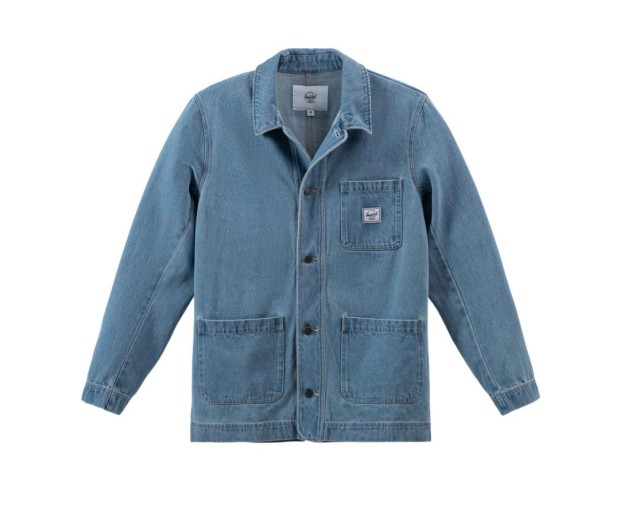 Herschel's unisex Supply Uniform Collection is made up of highly functional wardrobe basics including tops, bottoms, outwear, and the Denim Shop Jacket. The workwear-inspired piece comes in a medium-wash shade with metal buttons and three pockets, and it's finished with Herschel's signature white woven label.
[$120; herschel.com]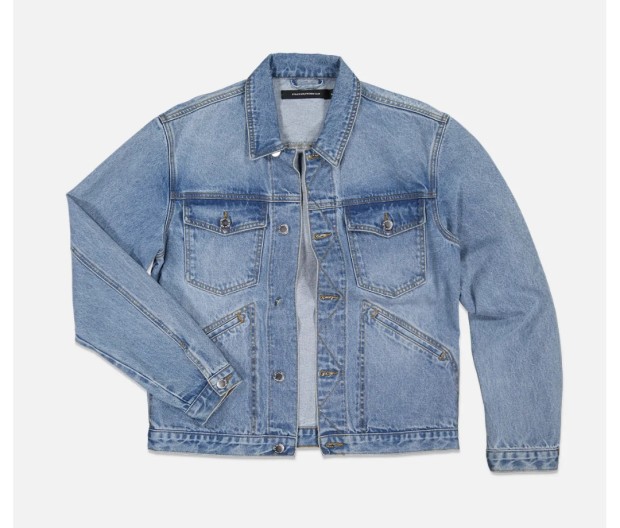 Whether you're riding to Sturgis or strolling around Soho, the Ranch Rider from Stolen Girlfriends Club is a great pick. This stylish workhouse of a jacket offers plenty of rock-n-roll appeal without looking tired: It's part of the brand's American Dream collection, which remixes Y2K quirk with '60s Americana vibes.
[$278; stolengirlfriendsclub.com]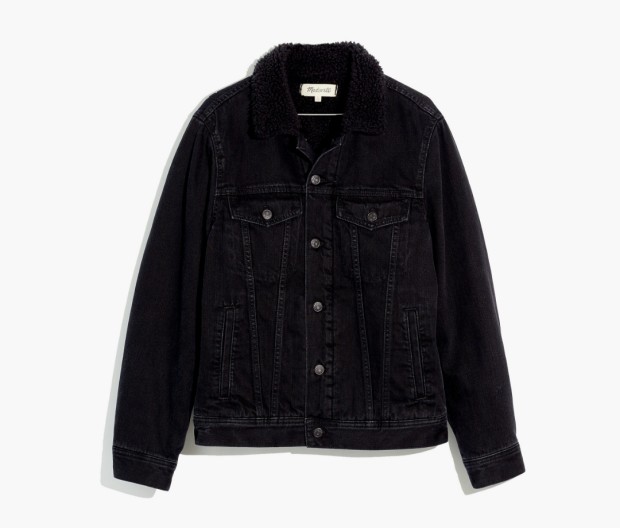 This version of Madewell's standard denim jacket is lined with fuzzy and insulating sherpa material—except inside the quilted sleeves—to help you retain more body heat on colder days. Its looser fit is also well-suited for layering: Slip it over a hoodie for extra warmth or under a trench coat if the forecast looks drizzly.
[$175; madewell.com]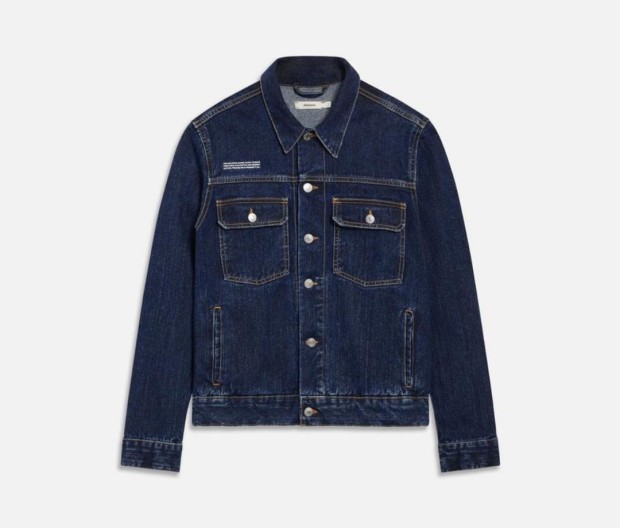 Founded by former Levi's designer Jonathan Cheung, Pangaia is all about sustainability and circular product life cycles. The company uses regenerative wild Himalayan nettle and organic cotton from India for its selvedge denim pieces, and they also feature non-galvanized stainless steel hardware so they can be more easily recycled. This unisex jean jacket also comes with an anti-odor treatment to reduce the need for cleaning and a QR code for getting more info on its circularity.
[$305; pangaia.com]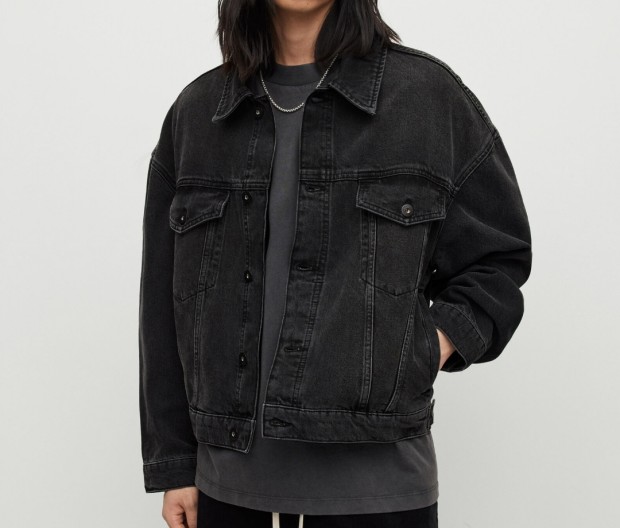 A fresh take on the classic trucker, this jacket is cut for an oversized fit, giving it a relaxed look, and the denim is washed for a little extra vintage charm. Complete with a secure button closure and two practical chest pockets, the Avets Denim Jacket blends the rugged and the refined, making it an indispensable addition to your wardrobe.
[$269; allsaints.com]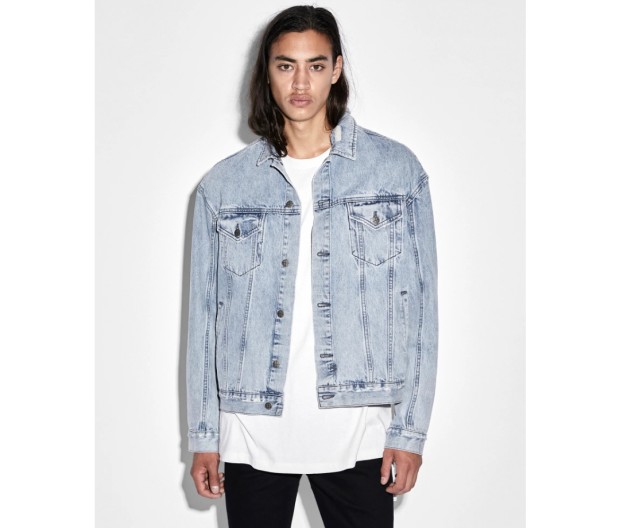 Made of heavy-duty rigid denim, Ksubi's Oh G trucker jacket veers toward grunge fashion with stonewashed denim, retro hardware, signature cross embroidery, and ample destruction—rips, tears, and frays included.
[$240; ksubi.com]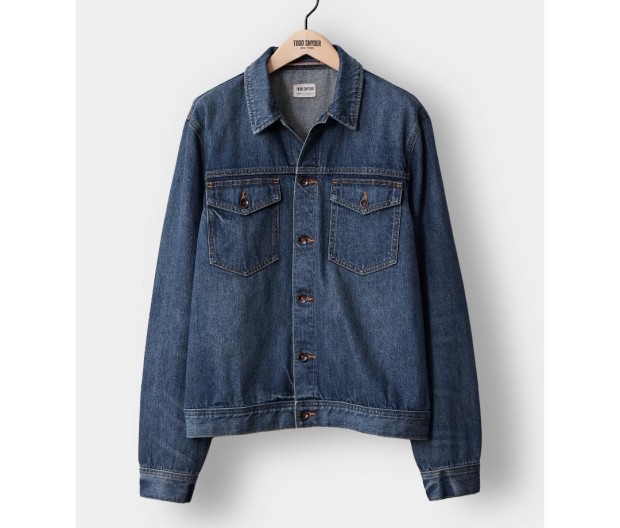 The Dylan Jacket is a bestseller that exemplifies Todd's approach to reimagining classic designs with superior materials. This rendition, created in 100-percent cotton selvedge denim, is available in two colorways: a true indigo hue in medium and a faded wash for a vintage-inspired look. The jacket retains the stalwart trucker silhouette but offers a slimmer fit for the modern man.
[$298; toddsnyder.com]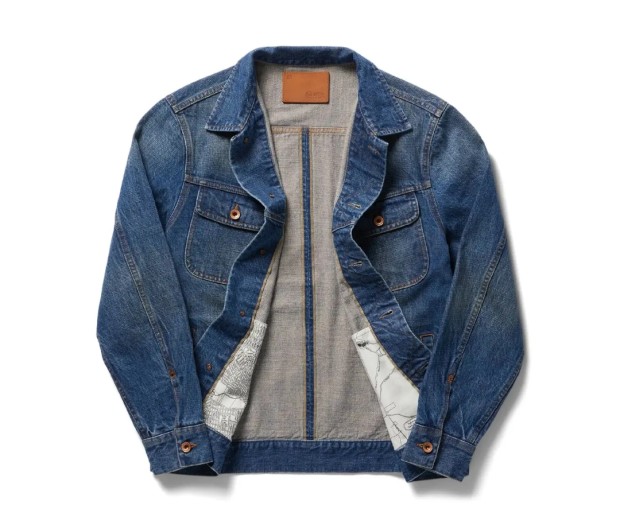 As its name suggests, this organic cotton selvedge denim jacket was made for the long haul. But since it's garment washed, it'll look like one of your well-worn favorites right out of the box. The map print inside the pockets is a fun travel-inspired touch. 
[$238; taylorstitch.com]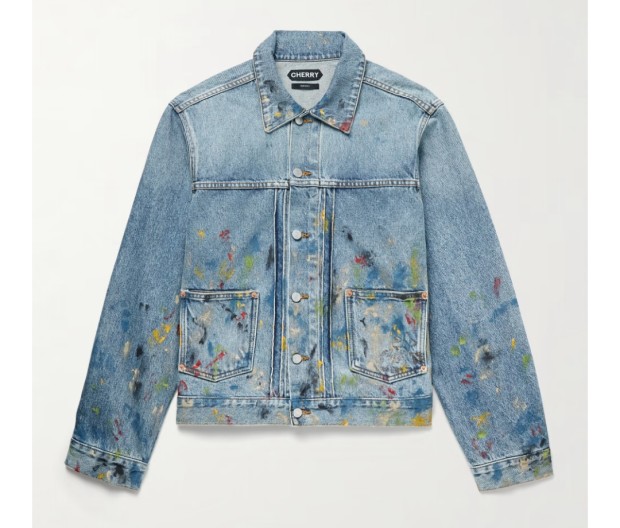 Throw on this jacket from newcomer Cherry LA when you're in a cheeky mood. Each garment is manufactured in South Central Los Angeles and individually hand-splattered with multiple colors of paint. If you want to really commit to the look, pick up a matching pair of paint-speckled blue jeans.
[$370; mrporter.com]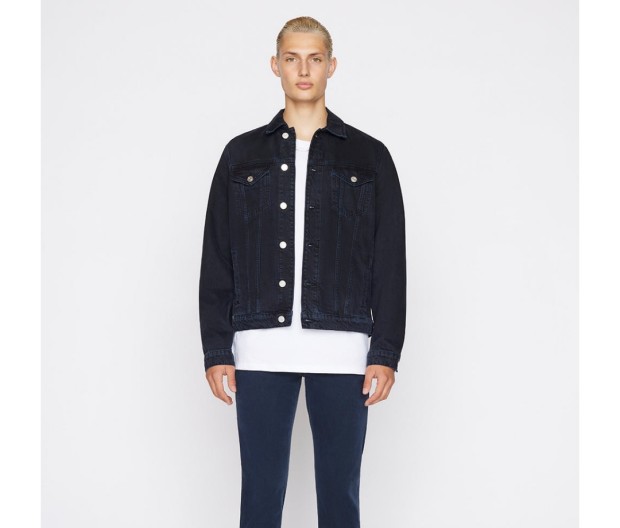 Frame's Heritage jacket is a great pick if you want a jacket that will change and get better with age. The muted black wash will fade over time and develop unique patterns at every nook and crease.
[$348; frame-store.com]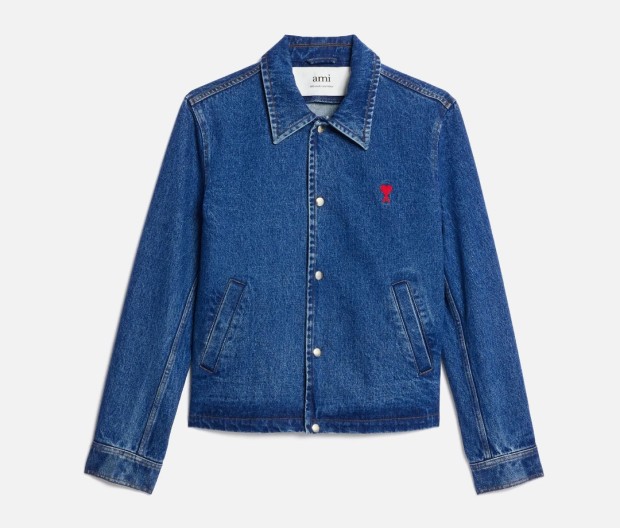 Instead of being cut to a typical trucker silhouette, this pre-faded jacket from Ami takes on the sportier appearance of a track jacket. Brand-specific features include a button-closed front and welt side pockets as well as a signature bright red Ami de Coeur logo stitched at the chest.
[$595; amiparis.com]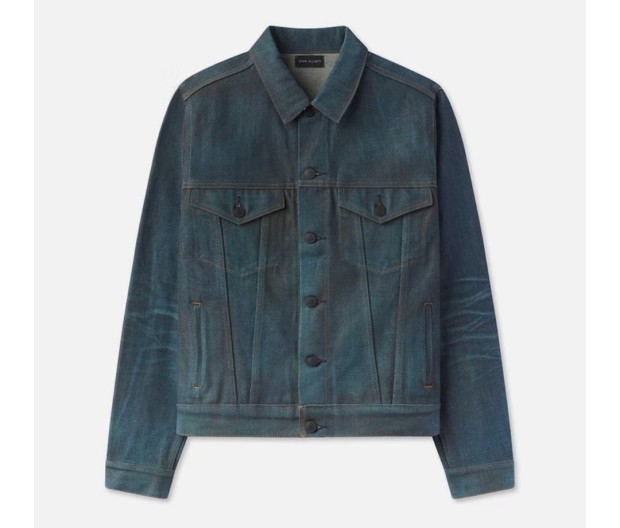 Unlike most designers, John Elliott chose a more sustainable waterless fading process for the custom Japanese selvedge denim comprising this jacket. In addition, hand sanding and 3D resin are used to mimic one year of natural wear-and-tear (of course, the jacket will continue to pick up wear marks over time). Contrast stitching and waistband tabs give this piece additional interest. 
[$239; johnelliott.com]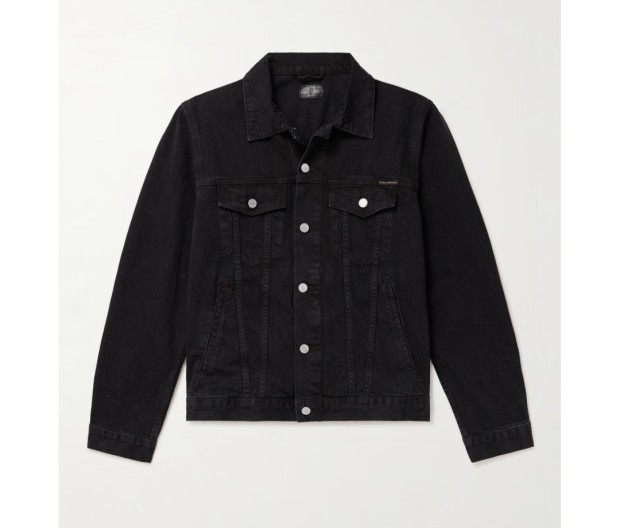 The Swedish purveyor of ethical denim serves up a quintessential trucker style imbued with a sustainable ethos. Crafted with Nudie's signature organic cotton, this jacket embodies an eco-conscious mindset but still serves up a classic worn-in aesthetic. The robust denim is subtly faded and softened, so it'll have a lived-in feel from the get-go.
[$180; mrporter.com]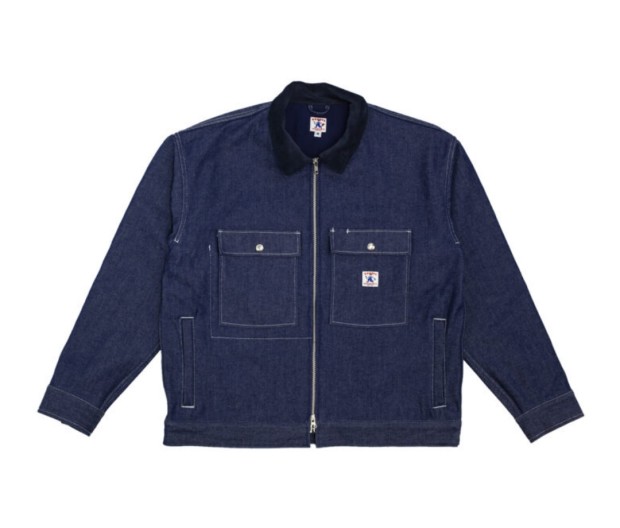 The Station Jacket from NYC brand Randy's Garments showcases indigo-dyed 13.75-ounce denim woven by Mount Vernon Mills (a textile factory located in Trion, GA). Left raw, the jacket invites you to shape its journey: It'll fade and pick up marks and creases based on how you wear it. An overdyed, all-cotton sateen lining brushed for a chamois-like softness gives this jacket bulk-free warmth, and its generous shape across the shoulders and chest creates a roomy fit.
[$308; randysgarments.com]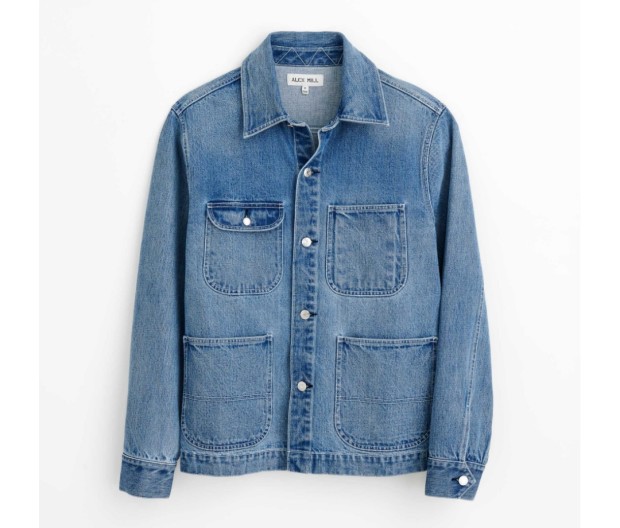 Alex Mill's Work Jacket is constructed from 100-percent Japanese indigo denim in an appealing vintage wash. Shank buttons add a traditional touch to the contemporary design, and bar tack stitching (a series of closely spaced zig-zag stitches) provides reinforcement in key areas.
[$220; alexmill.com]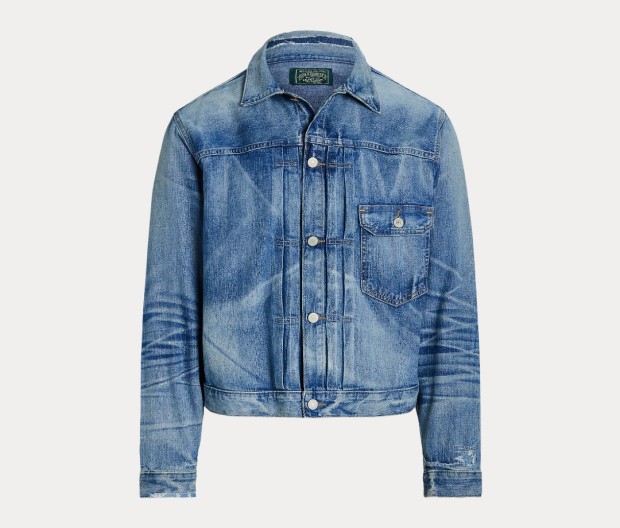 Polo Ralph Lauren's distressed denim trucker stands out with its asymmetrical front pocket design, but look closely and other unique details reveal themselves: There's a sewn-in patch on one sleeve, and the back of the jacket has an adjustable buckle for a snug fit (similar to a Levi's Type I).
[$298; ralphlauren.com]