Men's Journal aims to feature only the best products and services. We update when possible, but deals expire and prices can change. If you buy something via one of our links, we may earn a commission. Questions? Reach us at [email protected].
Shaving absolutely sucks, and few would disagree. And while growing a beard is cool, balding up top is a different story. When I got the Braun Series 9 Pro, which is $76 off right now during Amazon Prime Day, my life became utterly easier.
Some think being bald means less maintenance because, well, what is there to maintain? But the truth is most of us bald guys aren't fully bald. It's more like a desert grass situation up there—scattered—and it requires an ungodly amount of skill to shave well. But after I started using the Braun Series 9 Pro shaver, it was like having my own personal barber shave my head wherever I want. 
Here's why.
Related: The 25 Best Men's Shoe Deals During Amazon Prime Day Start at Just $20
Braun Series 9 Pro Electric Razor for Men with Portable Charging Case

, $304 (was $380)
[$304; amazon.com]
The Braun Series 9 Pro is a waterproof handheld foil shaver designed for faces, but it's a phenomenal head shaver. It has a flexible shaver head that closely contours any bone topography without nicks. It also includes the Braun SmartCare cleaner, which is like a carwash and docking station for the shaver. This shaver is tremendous. But its true value lies in its battery power.
The handheld unit itself will last for up to 90 minutes or about two weeks depending on frequency of use. And when in a pinch, five minutes of charging will yield 60 minutes of power. With the Pro model, you also get the PowerCase — a true moniker for its functions as a power bank and protective travel case. The PowerCase adds about 50% extra battery life, keeping the shaver fully charged as it lies in the case with the push of one button.
For context, I use a razor on Monday and the Braun Series 9 Pro on Wednesday, then sometimes on the weekend. Each head shave takes 25-30 minutes. Before my last full charge, I was able to get in 14 shaves over eight weeks before the battery hit 0%. In my experience with shavers, that's the top.
The PowerCase also serves as a utile travel companion. The shaver has a built-in lithium-ion battery so it has to be carried on the plane. I'll usually travel from coast to coast for 10 days at a time, and using a razor can be a hassle. Having the Braun Series 9 Pro safely stored in my backpack and knowing that the battery won't run out is great insurance for looking nice when having to meet colleagues, going to family parties, and having daily video conferences. It's also rather nice-looking.
Is it expensive? Yes. But that's why the Braun Series 9 Pro is the deal to jump on during Amazon Prime Day. During the sale, this shaver is $304. Is that still a lot to pay for a head shaver? Well, consider how often you've bought something cheap only to have to buy something higher quality after it breaks. This shaver works right out of the box. It'll be a dependable tool in your arsenal for the better part of a decade and will more than prove itself after the first few months.
Braun Series 9 Pro Electric Razor for Men with Portable Charging Case

, $304 (was $380)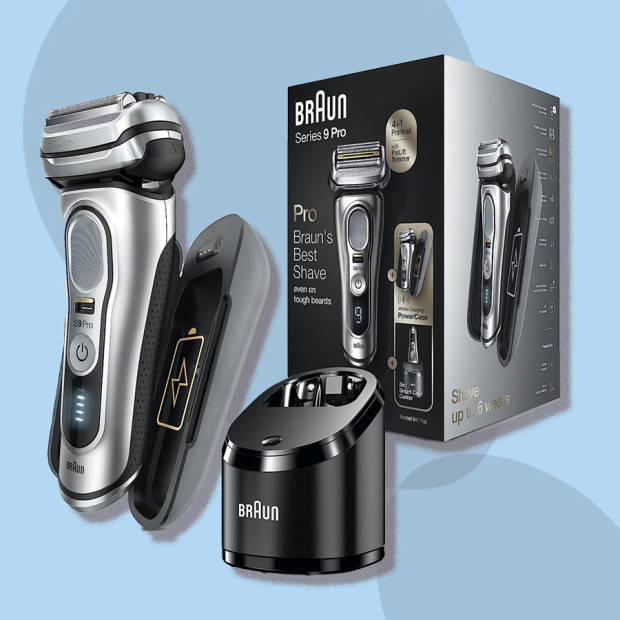 [$304; amazon.com]
Other Head Shaver Deals During Amazon Prime Day
If you're not ready to pull the trigger on the best head shaver for men, consider these alternatives that are also on sale during Amazon Prime Day:
Braun Series 9 Electric Shaver

, $200 (was $300)

Braun Series 7 Electric Shaver

, $133 (was $170)

The FlexSeries Electric Head Shaver

, $56 (was $80)

Wyklaus Head Shaver 7D

, $42 (was $99)

Remington Balder Pro Head Shaver

, $48 (was $60)
More Can't-Miss Prime Day 2023 Deals
The Bowflex Adjustable Dumbbells With 18,000 Perfect Ratings Dropped in Price Again as We Were Writing This
The 11 Best Men's Accessories on Sale During Amazon Prime Day Include Ray-Ban, Timberland, and Fossil
The 6 Best E-Bike Deals During Amazon Prime Day Start as Low as $421