Despite the joy weddings create, the expectation of attending several every summer (potentially every year) can be excruciating. Many guys need new outfits before each wedding season after outgrowing last year's spectator garb. The shoes, however, can be easier. Nordstrom Rack just marked down the Magnanni Tassel Loafer — a shoe versatile enough for any wedding outfit whether you're a guest, the best man, or even the groom himself.
A brand synonymous with class, Magnanni shoes can cost upward of $500. But right now at Nordstrom Rack, this loafer has been marked down to $230 — a more-than-fair price for a luxury men's dress shoe that has the potential to be part of your annual wedding guest attire.
Magnanni Tassel Loafer, $230 (was $495) at Nordstrom Rack
A traditional gentleman's slip-on dress shoe, the Magnanni Tassel Loafer features an apron-style toe adorned with a leather tassel and boasts a full leather upper, lining, and sole. This Spanish-made loafer uses a Bologna construction that creates a wrap around the foot from the sole, resulting in a secure fit with long-lasting comfort, perfect for standing and dancing.
Each wedding has its unique intricacies, but a man's wedding attire can usually match the same pair of versatile shoes if selected carefully. The slim lines and minimal silhouette of this Magnanni shoe subdue its presence while simultaneously piquing interest with the tassel. In other words, it's a shoe that packs Goliath-like awe into a David-sized body.
And though it's a fine choice for both indoor and outdoor venues, what about color? Will a black shoe truly go with anything? In short, mostly. Consider these suiting options:
Black: The traditional black suit, while borderline overplayed, will match well with the Magnanni Tassel Loafer. A simple two-button or even double-breasted suit with a plain white dress shirt will look smashing. The tie is optional during the summer when using these colors.
Blue: Navy and black go together like Larry David approving of something — "pretty, pretty, pretty good." This loafer would serve as a perfect complement to a navy tuxedo with black trim or any navy blue suit. Just make sure to accentuate the suit with a white shirt and black or lighter-blue silk accessories. The same rules apply to green and red suits.
Gray: A perfect ally to a gray textured or patterned suit, the black leather loafer creates a solid foundation on which to build a wedding outfit. Just pick the right gray or else it'll look like you came from the office. Adorn with colorful accessories to break up any monotony.
Tan: Darker shades of tan or those on the gray-side will work fine with black dress shoes. Brighter tans, however, beg for brown shoes, like the Magnanni Kamato II Loafer. For a summer wedding, the slim silhouette of the Magnanni Tassel Loafer would look best with a no-show sock and some ankles for accessories.
Magnanni Tassel Loafer, $230 (was $495) at Nordstrom Rack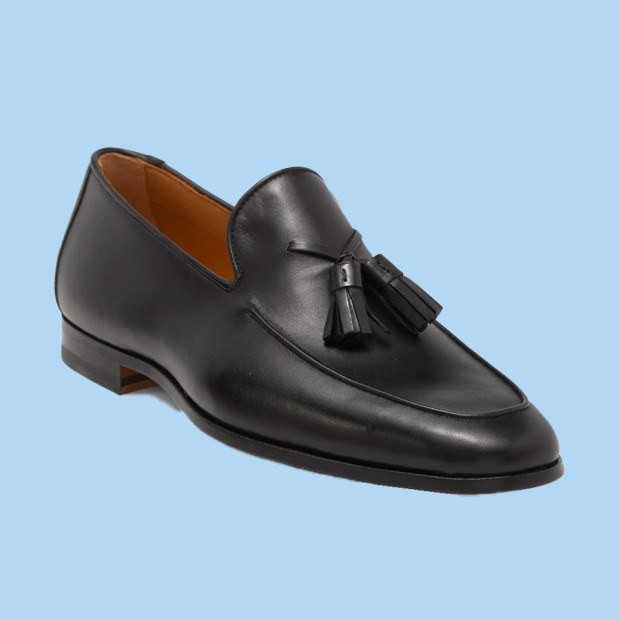 At this price, the style is already gaining momentum with sizes selling out by the hour. If yours is no longer available, consider the Magnanni Kamato II Loafer, as an alternative. The Kamato II Loafer is similar to the Tassel Loafer, but the primary difference is the rubber sole. Some may appreciate the traction this offers over the leather of the former shoe.
Magnanni Kamato II Loafer, $210 (was $375) at Nordstrom Rack