Alileo boxed wines are made in Sicily.
Oenophiles interested in sustainability and environmental friendliness might like to give Alileo a try. The Sicilian natural wine brand has launched four varietals, made using traditional methods from the west coast of Sicily, with a focus on environmental conscientiousness. Alileo chose a bag-in-box format because it is lighter to ship than traditional glass bottles, resulting in lower transport emissions and a smaller carbon footprint. And, the alternative packaging and organic viticulture method also ensure that the 100% unfiltered wine stays fresh longer—a full 30 days from first opening. 
Those who might turn up their noses to an unbottled wine don't necessarily know what they are missing. In addition to the promise of extended freshness, boxed wines go where bottles do not, and are easily and safely transportable for al fresco summer festivities. Boxed wines and their easy access spout also allow for impromptu aperitivo, whereas a bottle entails commitment.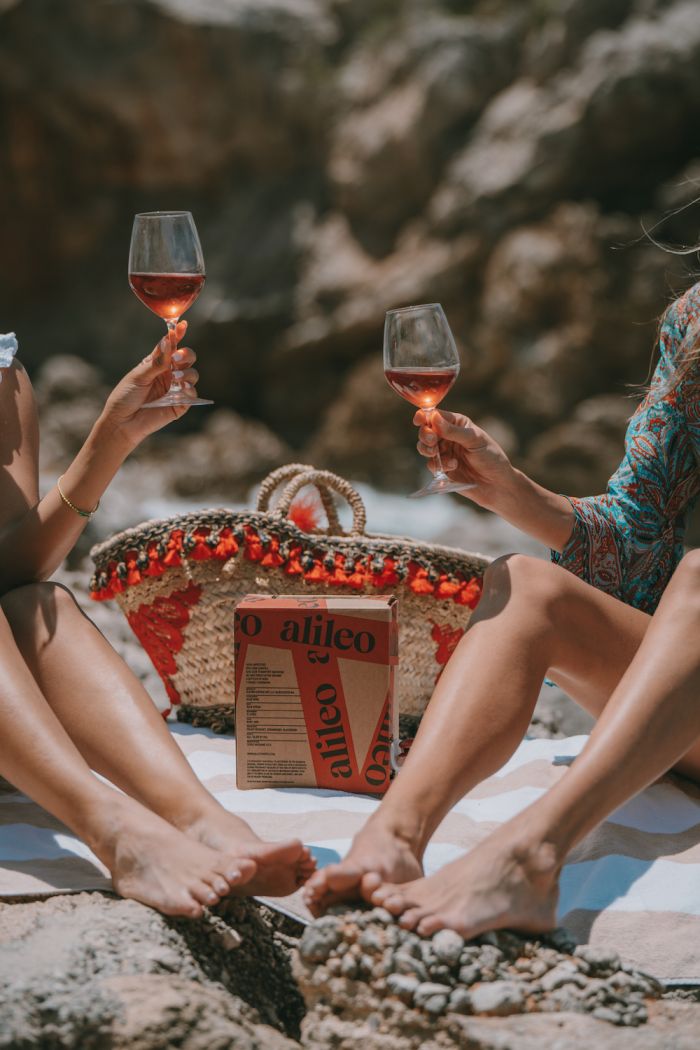 Alileo boxed wines are easily and safely transported.
Created by husband and wife team Antonio Bertone and Alexandra Drane, Alileo is produced in partnership with Bertone's family in Sicily and is then imported to the United States. A family endeavor, Bertone's cousin lovingly crafts the wine in the seaside village of Marsala, Italy, which is also famous for its Marsala Wine and Sea Salt production. Bertone's family oversees the winemaking and logistics for the brand. 
"Alex and I have been talking about creating a wine business with our family in Sicily for years," said Bertone, co-founder of Alileo. "In 2020, my mother, a native of Sicily, was diagnosed with a terminal illness, which prompted us to make that dream a reality. We wanted to ensure that my mum felt that we weren't going to lose our connection to Sicily. With that we've developed a fantastic wine that is true to our Sicilian roots and is providing a financial foundation for our relatives in Sicily." 
Alileo varietals are 100% natural, unfiltered, gluten-free, sugar-free and non-GMO. Each comes in a 3.0L box, the equivalent to four standard bottles of wine and each retails for $39.99. The selection includes: 
* Zibibbo Macerato: A light and fruitier white with citrusy and muscaty notes. 
* Young Grillo: A crisp and drier white with citrus and floral aromas. 
* Syrah: A full-bodied red with notes of cherry and red fruit with tannins. 
* Rosato Bronzato: A deep rose and made from 100% Syrah grapes with notes of cherry and red fruit.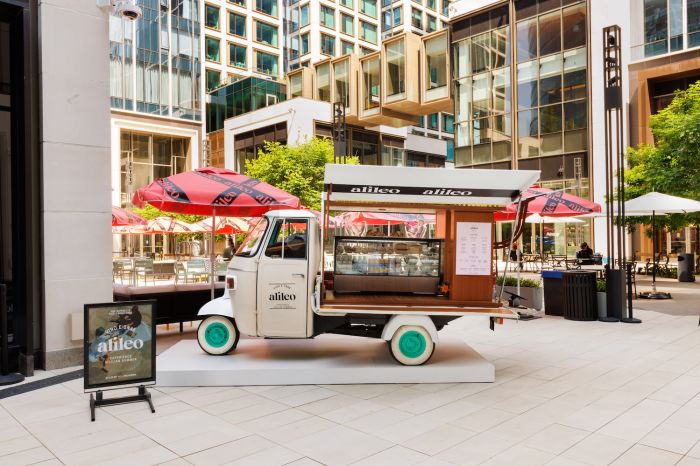 Alileo Vino e Snak Bar, Boston, MA
Based in Boston, MA, the brand this summer has launched its "alileo vino e snak bar," a pop-up wine and snack experience at 70 Pier 4 Blvd in Boston Seaport, "bringing Sicily to the Seaport." Featuring Alileo wines, authentic Italian sandwiches, salads and snacks, and gelato from Nancy's Fancy (a small batch gelato and sorbetto brand made by two-time James Beard Award winning chef Nancy Silverton), the experience transports guests to a piazza in Palermo. The pop-up is open seven-days a week from 11am-7pm until October 15, 2023.
Photos courtesy of Alileo