Katie Hughes Lead Estate Host at La Crema
For those wine-loving, adventure-seeking, sustainability-supporting travelers, La Crema Winery offers an informative Best of The Vine Estate Tour that gives one a new appreciation about one of the leading winemakers in Sonoma County.
The entrance of the Estate Vineyard is filled with flowers as guests drive up a long paved driveway to a historic barn. This is the tasting and educational center at La Crema. Bright red umbrellas lend shade on warm sunny days, as guests select from a variety of onsite tasting opportunities.
What was once a livestock barn in the 1880's, was turned into a luxury four-story wine country home 100 years later, by the previous owners Saralee and Richard Kunde. 
Lead Estate Host Katie Hughes welcomes visitors with a pour of 2022 Saralee Rose' before leading a tour of the luxury barn-style home.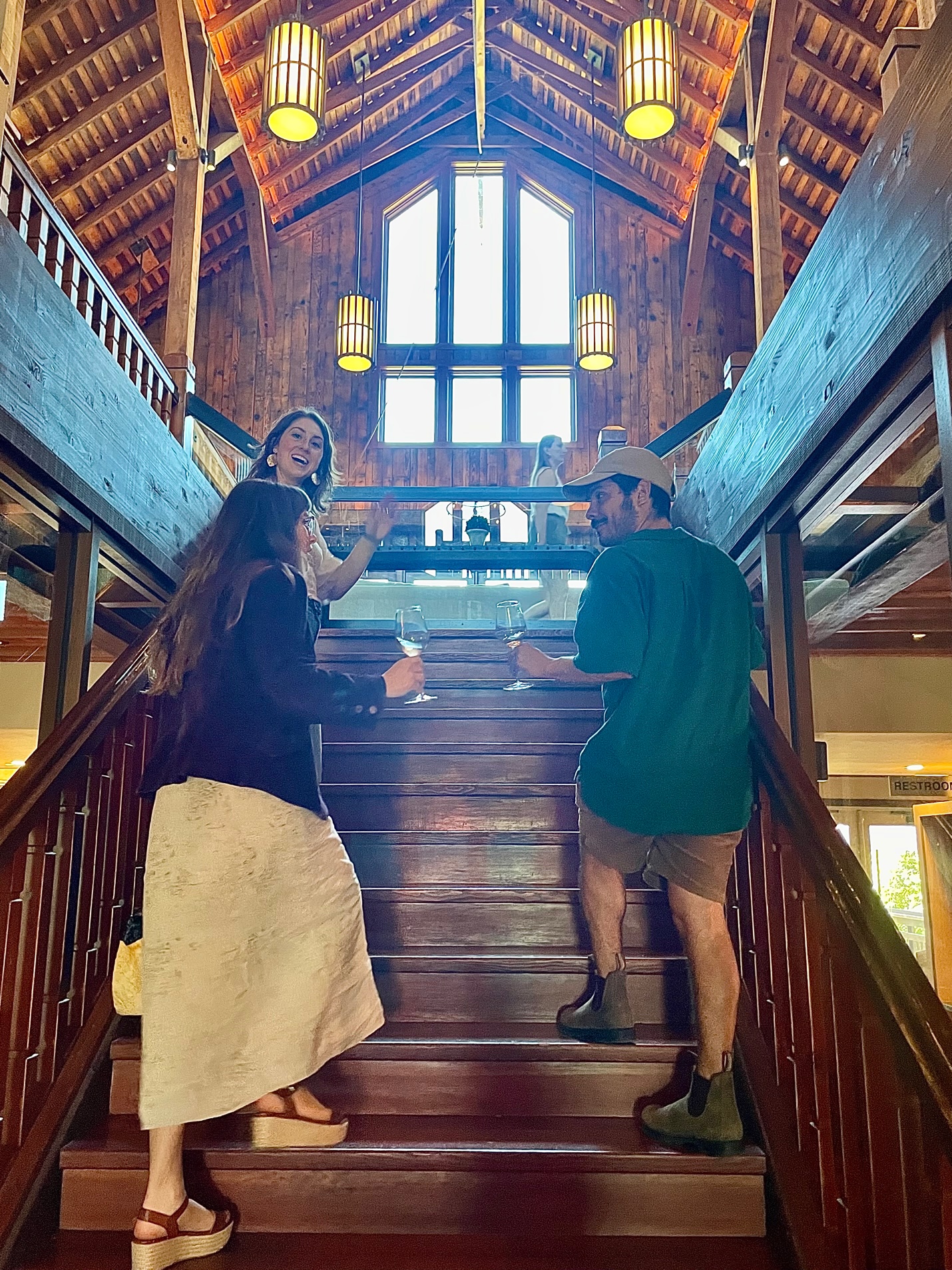 Touring the 'Barn' at La Crema – Photo Jill Weinlein
The multi-level tasting room offers a peek into Saralee's Salon and custom kitchen upstairs. 'Since Saralee was six-feet tall, the kitchen counters are higher than a normal kitchen,' said Hughes on the tour.
There is an extensive art collection throughout showcasing Saralee's love for the land, agriculture, and cows. 'The Kunde family have deep agricultural roots in the area,' said Hughes. 'Richard is from the multi-generational Kunde Family Winery in Sonoma Valley, and Saralee's family were dairy ranchers in Two Rock. When they bought this property in 1988, they started planting grapes in 1989.'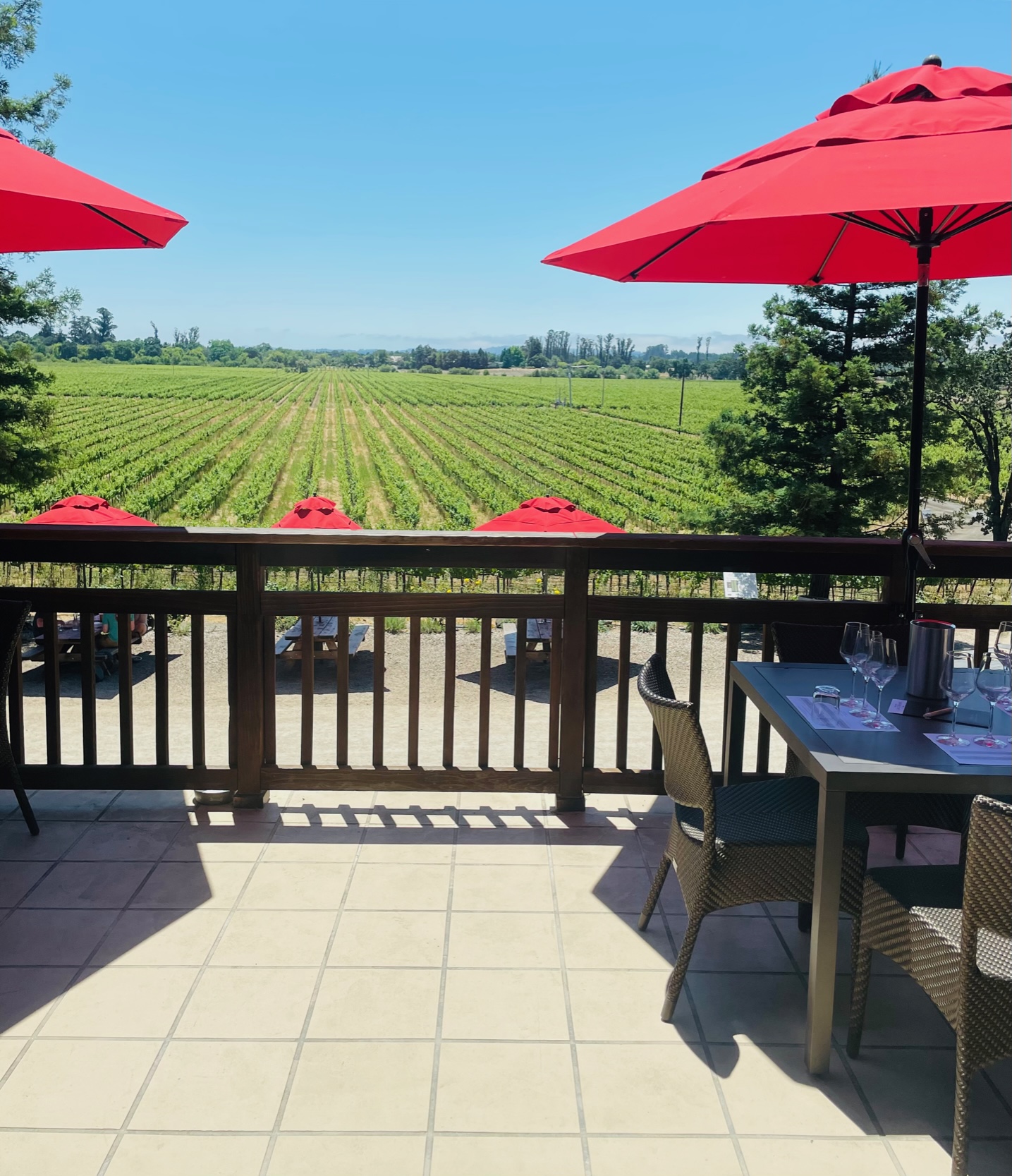 Glorious La Crema Vineyard Views – Photo by Jill Weinlein
Saralee and Richard woke up every morning looking out onto their vineyard. Next to their master bedroom is a marble master bathroom they built. Visitors will notice a huge walk-in shower with multiple shower heads.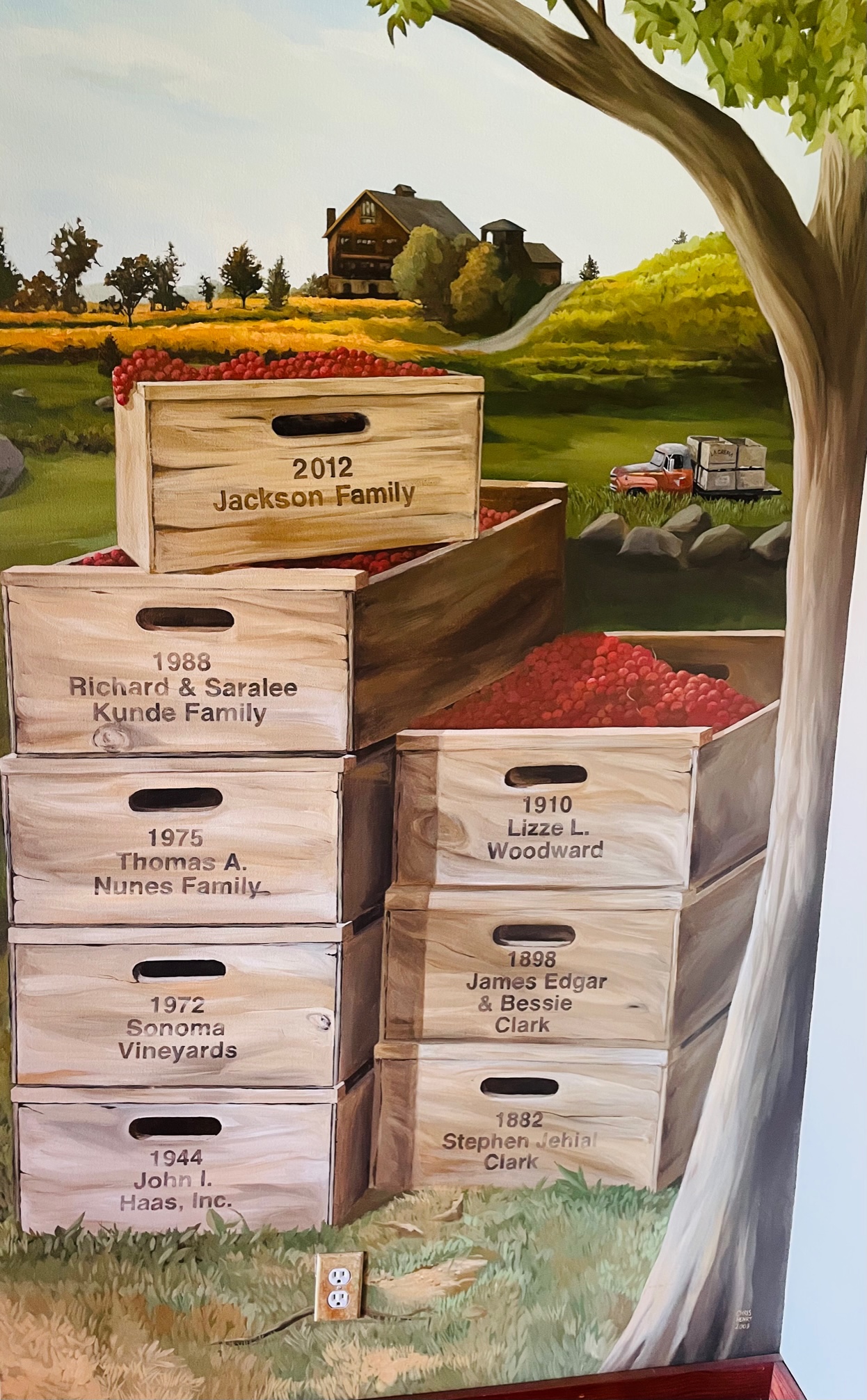 La Crema Legacy – Photo by Jill Weinlein
Stopping to admire a mural, one will notice that The Jackson Family now owns the winery. Barbara R. Banke is a leading wine industry innovator, Chairman and Proprietor of Jackson Family Wines, which she co-founded with her late husband, Jess Jackson.
"When Saralee became ill with cancer, she and Richard offered the Jackson family the first opportunity to purchase La Crema winery," said Hughes. "Saralee knew that Barbara and her daughter Katie Jackson had the same style of cultivating the vineyard and would carry their legacy forward."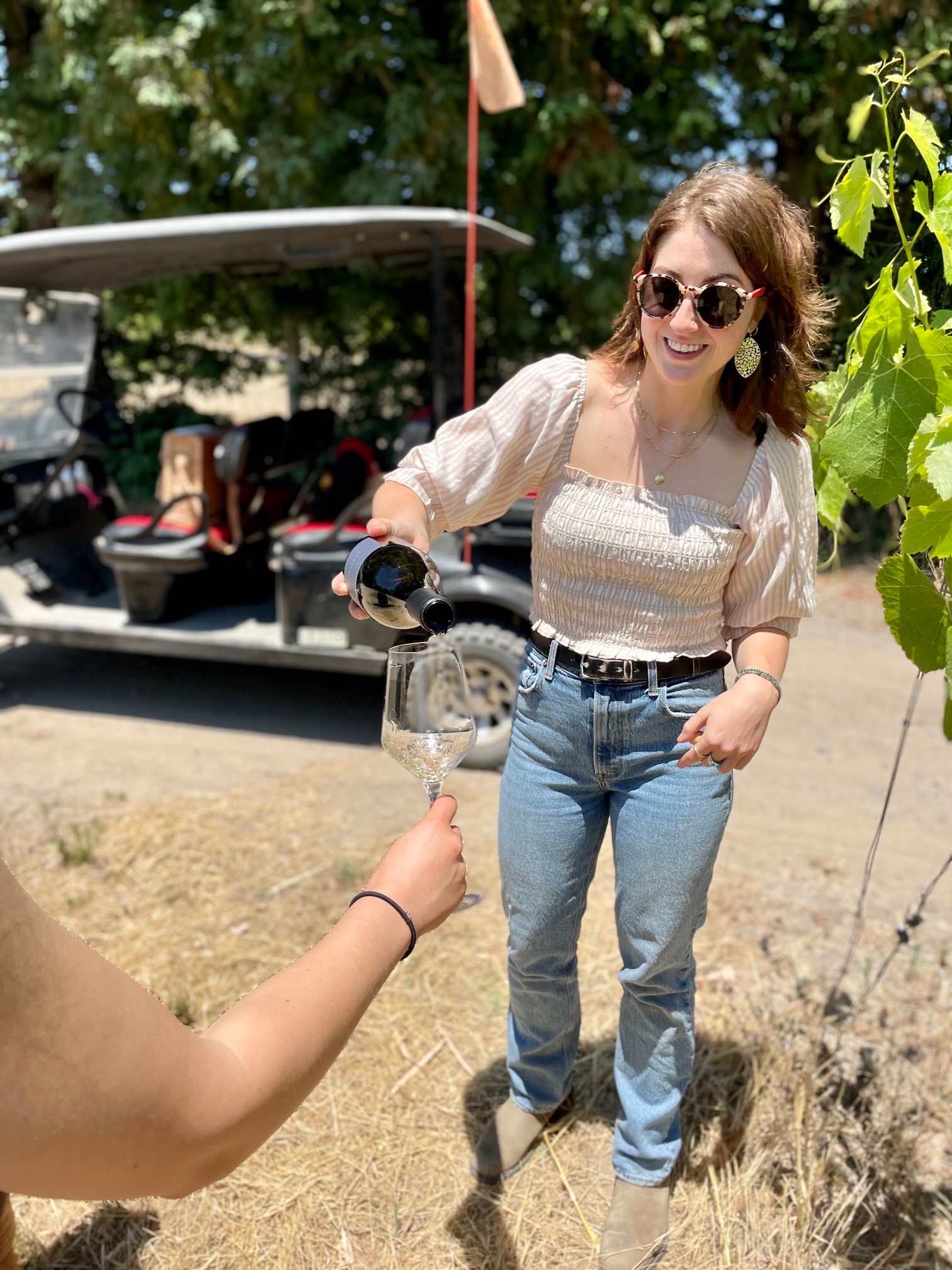 Katie Hughes pouring wine in the La Crema Vineyard – Photo Jill Weinlein
The La Crema Estate at Saralee's Vineyard is expansive. Guests tour while riding in a rugged golf cart through the vines with a glass of wine in hand. The tour enlightens visitors about the Jackson Family's sustainability initiatives. When they purchased the 200-acres estate from Saralee and Richard Kunde in 2012, they have helped the winery become one of the most recognizable in Sonoma County.
While cultivating the land of this iconic vineyard, they continue to foster a sense of community in Sonoma County with their large Richard's Grove grassy event space.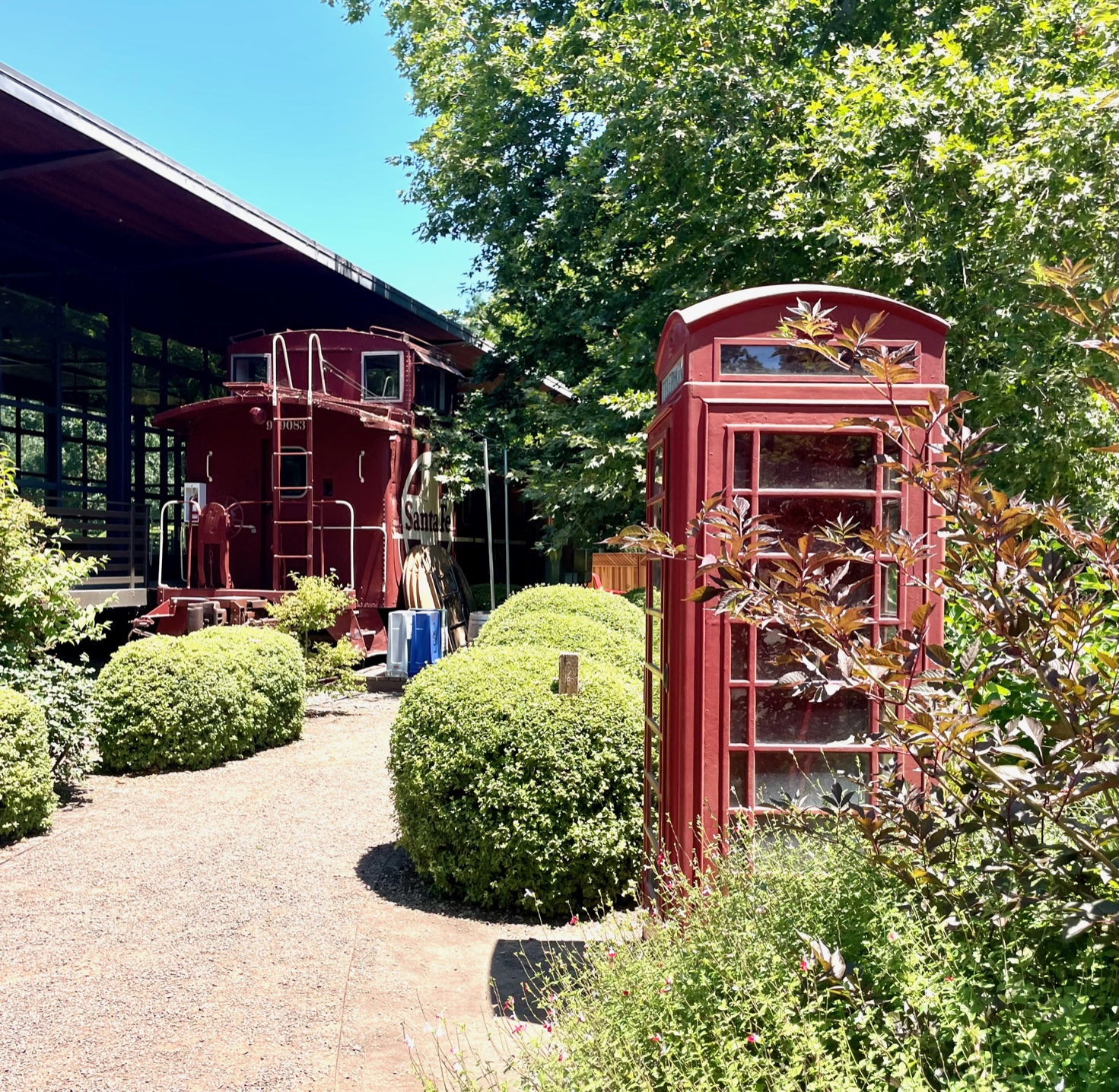 La Crema Event Space – Photo by Jill Weinlein
Besides hosting community events, they also host 'Picnic at the Grove' in the summer. On selected Saturdays the public can purchase a ticket to arrive in the afternoon from 3 to 6 p.m. La Crema pours wine, sets up lawn games and provides live music. Food is prepared in one of the train cars converted into a kitchen, and can be purchased to pair with La Crema wines.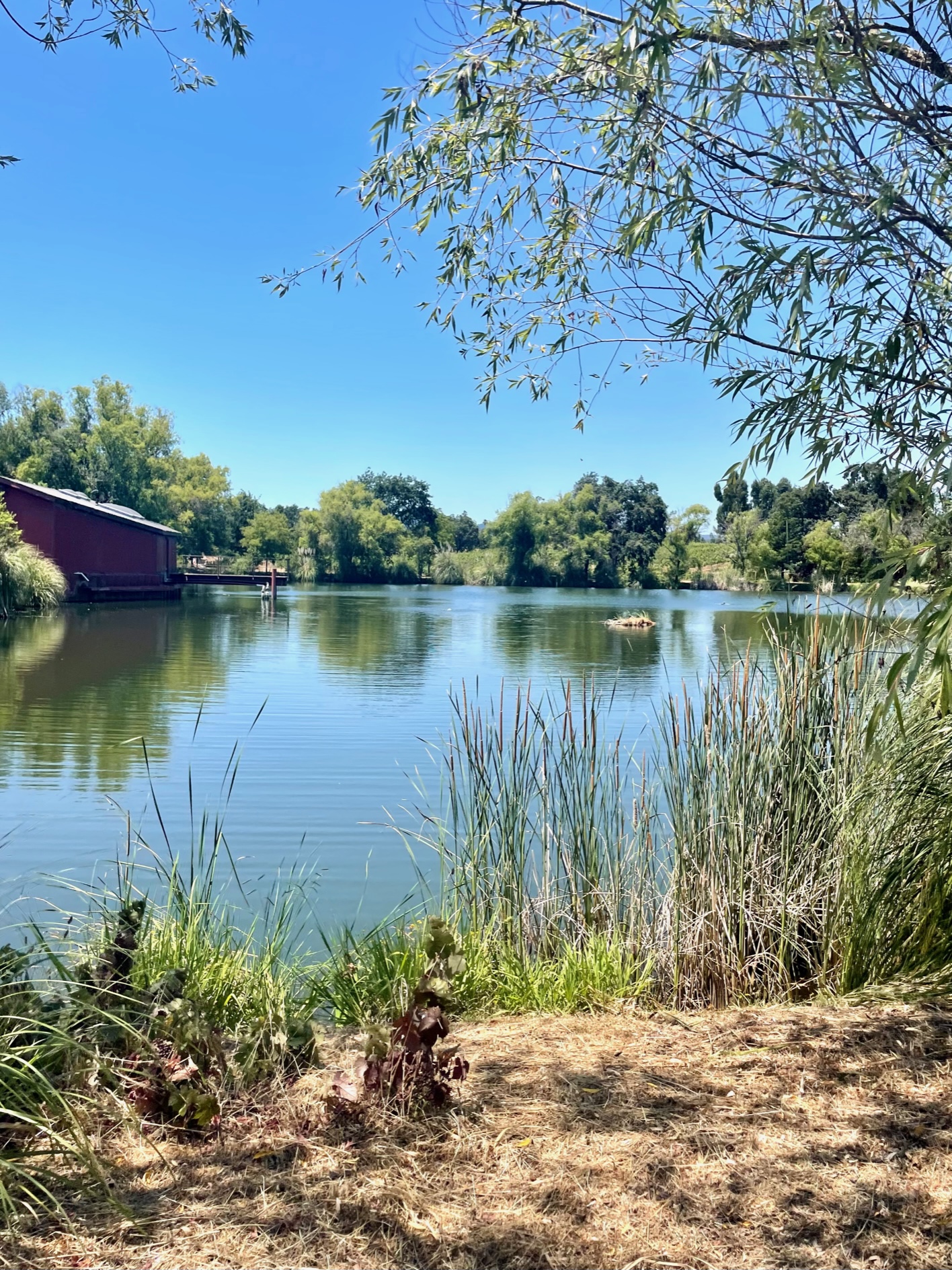 One of two rainwater lakes at La Crema – Photo Jill Weinlein
One of the most important areas on the vineyard are multiple tall cement cisterns. Water from two picturesque rainwater lakes is pumped, filtered and transferred into these cisterns.
These beautiful ponds are filled with tadpoles, blue herons, and colorful water lilies. 'Synergy and biodiversity for regenerative farming helps maintain the health of the entire ecosystem at the vineyard,' said Hughes.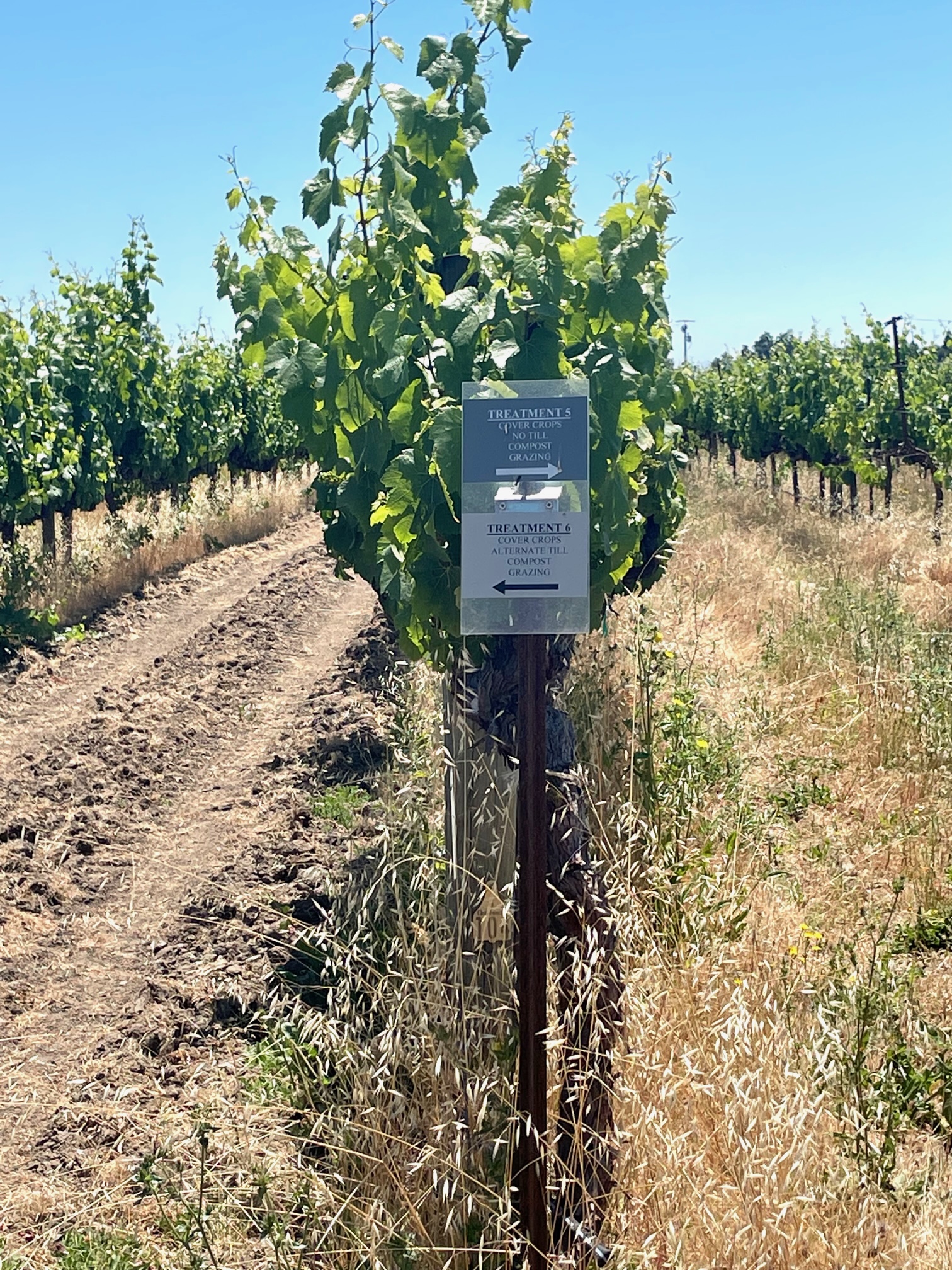 Sustainability Study at La Crema – Photo by Jill Weinlein
Driving along rows and rows of Pinot Noir grapes, we stopped in-between two rows to learn about a five-year UC Davis soil trial study at the vineyard. There are five different ways these trials help support vine growth and protect the vineyards.
'We are planting sweet peas and clover in-between rows of vines,' said Hughes. 'We have South African drafter sheep who are short and will eat the dried clover, but can't reach the grapes and their protective leaves.'
Some rows are tilled to aerate the soil and allow moisture and air to permeate, while other rows are left natural. The study will help to determine what is the healthiest maintenance for soil and grapes. "They are determining what tool kit and what tools to use in the future," Hughes said.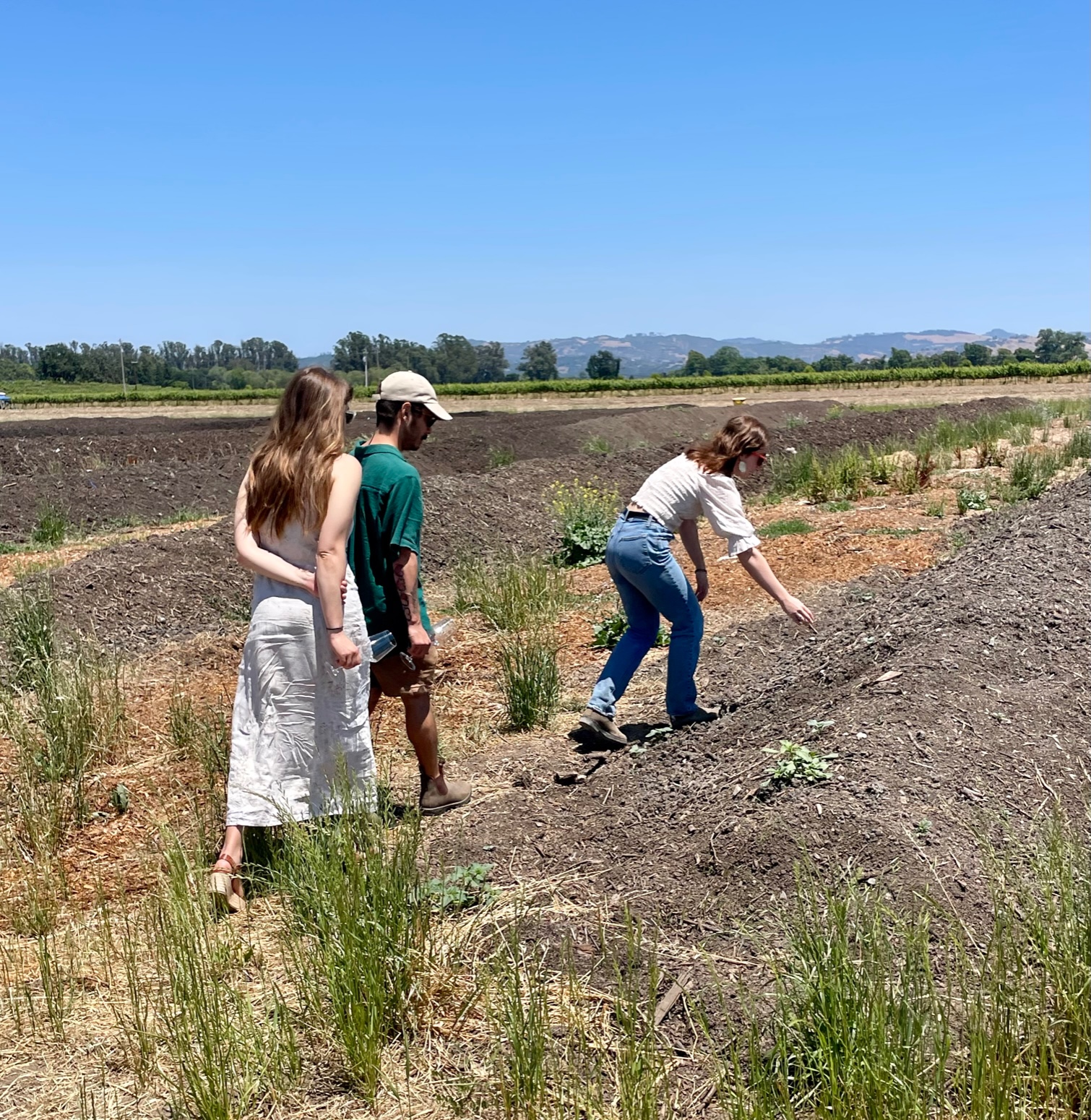 Learning about composting – Photo by Jill Weinlein
At the next stop on the tour, Hughes refilled wine glasses with a pour of 2021 Saralee's Chardonnay. We detected aromas of almond and floral on the nose, before tasting the essence of brioche, vanilla and butterscotch on the palate.
Exploring the vineyard's compost field, Hughes picked up a handful of rich dirt while discussing the positive impact of spreading compost throughout the vineyard. 'There is enough compost to cover all of the vineyard,' said Hughes. 
La Crema is on the path to creating a better tomorrow. As a founding member of International Wineries for Climate Action, La Creme is committed to helping decarbonize the global wine industry.
Collaborating with several third-party agencies, they measure the soil's nitrogen and carbon to benefit the vineyards. 'Once a grape has been crushed, the pulpy pomace is added to compost piles to provide nutrients to the soil,' said Hughes. 'We don't throw away the old vines and leaves either, we compost them.' Composting increases organic matter from entering landfills. Mulch makes the soil healthier and absorbs water better for retention. They also collect food trimmings and manure from neighboring farms to divert as much as 99% of organic waste to go into landfills.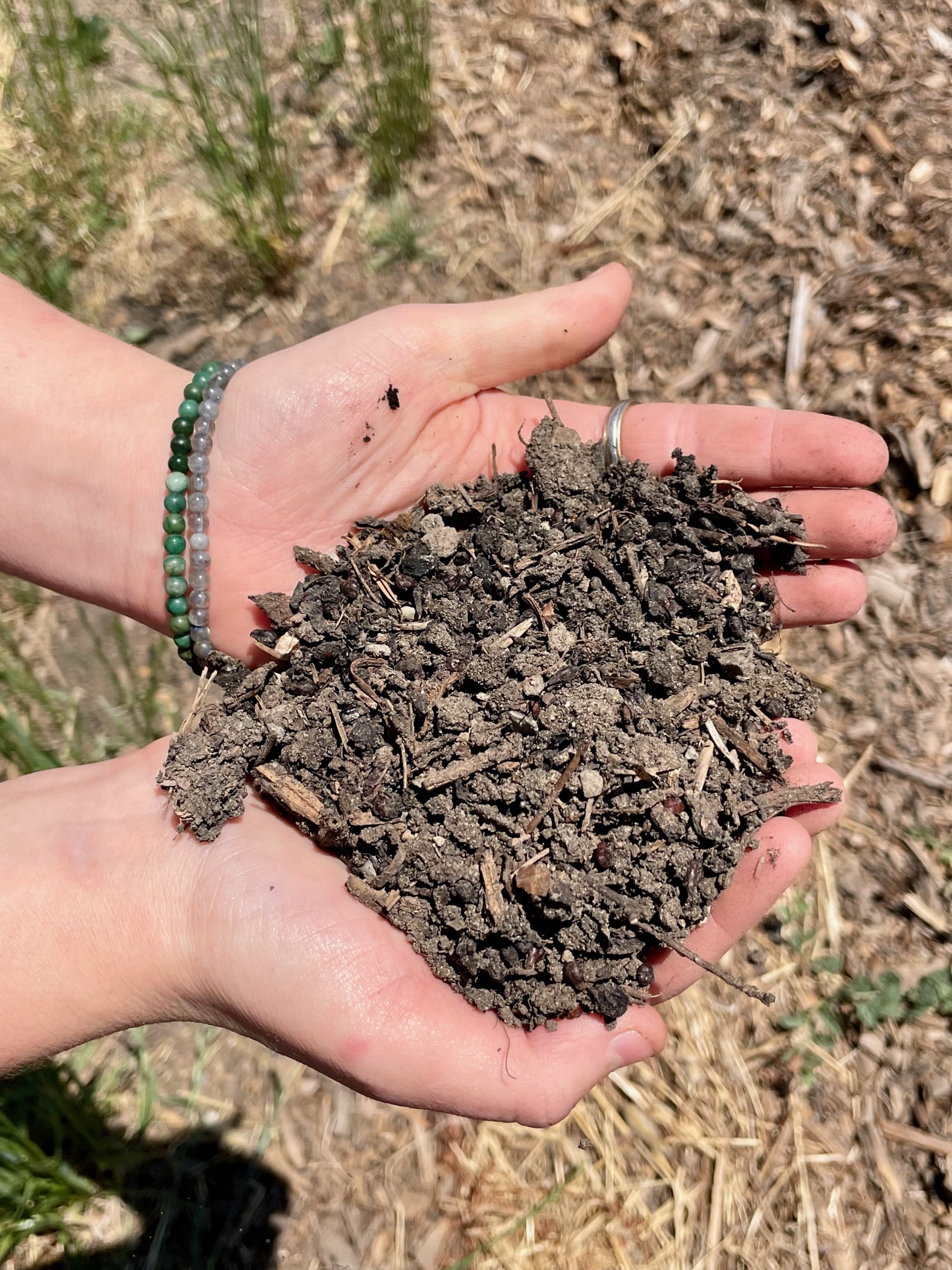 Composting at La Crema – Photo by Jill Weinlein
When compost water is steeped it's called 'Compost Tea' and is loaded with rich nutrients and healthy organisms. The farmers spray the vineyards with this tea and add it to the irrigation system.
During the fall season, rows of mustard flowers grow. Not only do they look pretty, but they help limit weed growth and prevent soil erosion. They also maintain moisture and attract pollinators, such as butterflies and honeybees.
Admiring all of the flowers, I later learned that Richard Kunde proposed to Saralee at Butchart Gardens in British Columbia. He wanted to create a little bit of a botanical wonderland at their Estate Vineyard.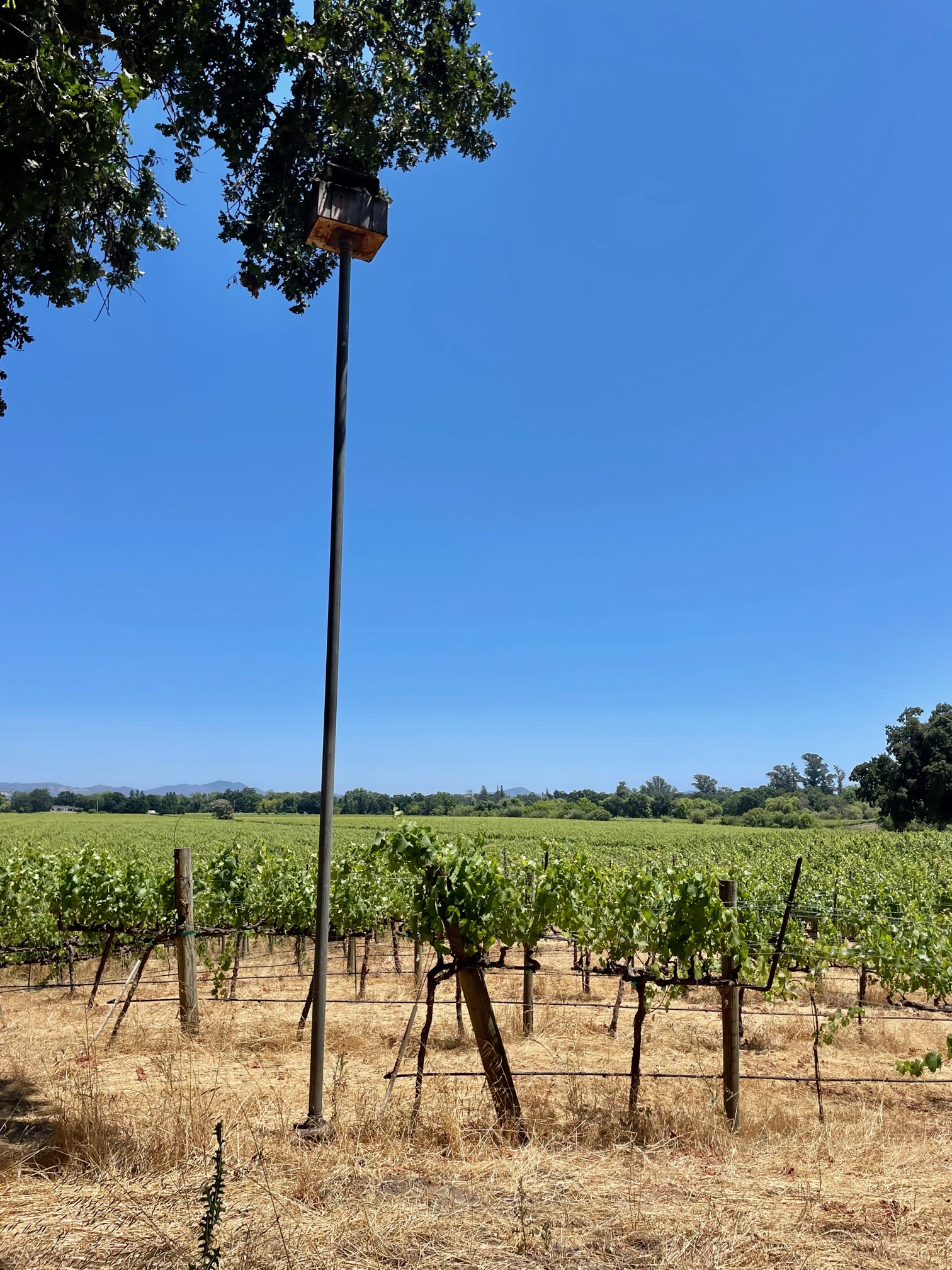 Birdhouse in the Vineyard – Photo by Jill Weinlein
There are five areas among the vineyards with nesting boxes for raptors, owls and falcons. These safe shelters for birds of prey to raise their young, also helps take care of rodents.
Besides sheep, the vineyard also has chickens grazing on unwanted weeds and provide natural fertilizer. The chickens also maintain the insect population, especially grubs and beetles. When they claw the soil they aerate it too.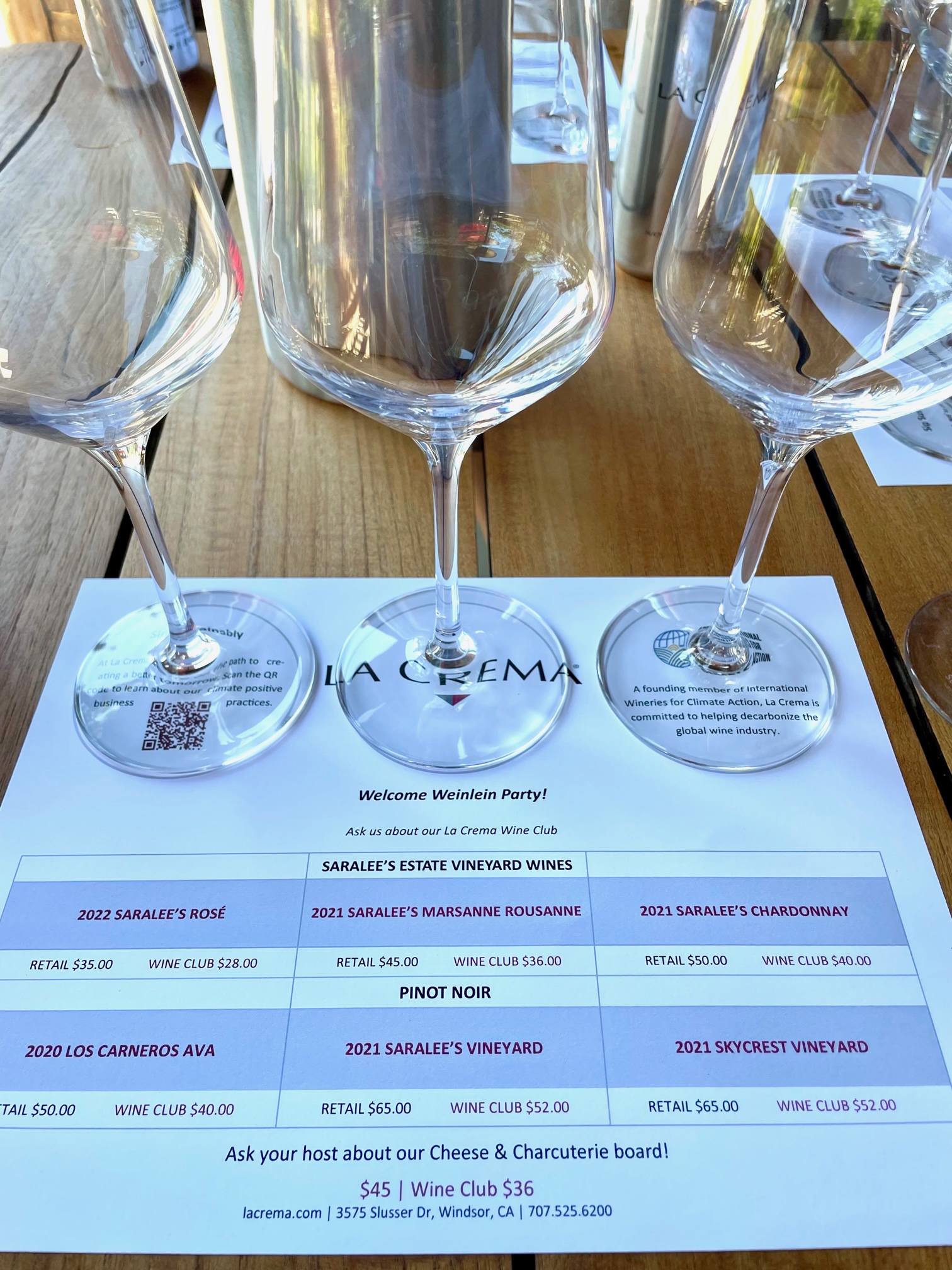 Sipping Wines at La Crema – Photo by Jill Weinlein
Sitting on the terrace of the barn, we enjoyed four different Pinot Noirs with a cheese and charcuterie. The board had Triple Cream French Brie from Marin French Cheese, Fiscalini Cheddar Cheese from Modesto, and a hunk of Point Reyes Original Blue Cheese. There were also slices of meats, bowl of olives, some mixed fruit with nuts and different types of crackers.
Our first pour was 2020 Los Carneros AVA made with grapes growing on the border of Napa and Sonoma. This area is idyllic for growing Pinot with the cool air from the Petaluma Gap, known for it's cooling wind tunnel. 'Pinot Noir is a diva,' said Hughes. 'This wine is 9 months in 30% new French Oak.' Besides the aroma of juicy blackberries and cherry, we tasted a little pomegranate and a touch of tabacco. The long finish offered a pleasurable trace of cocoa nibs.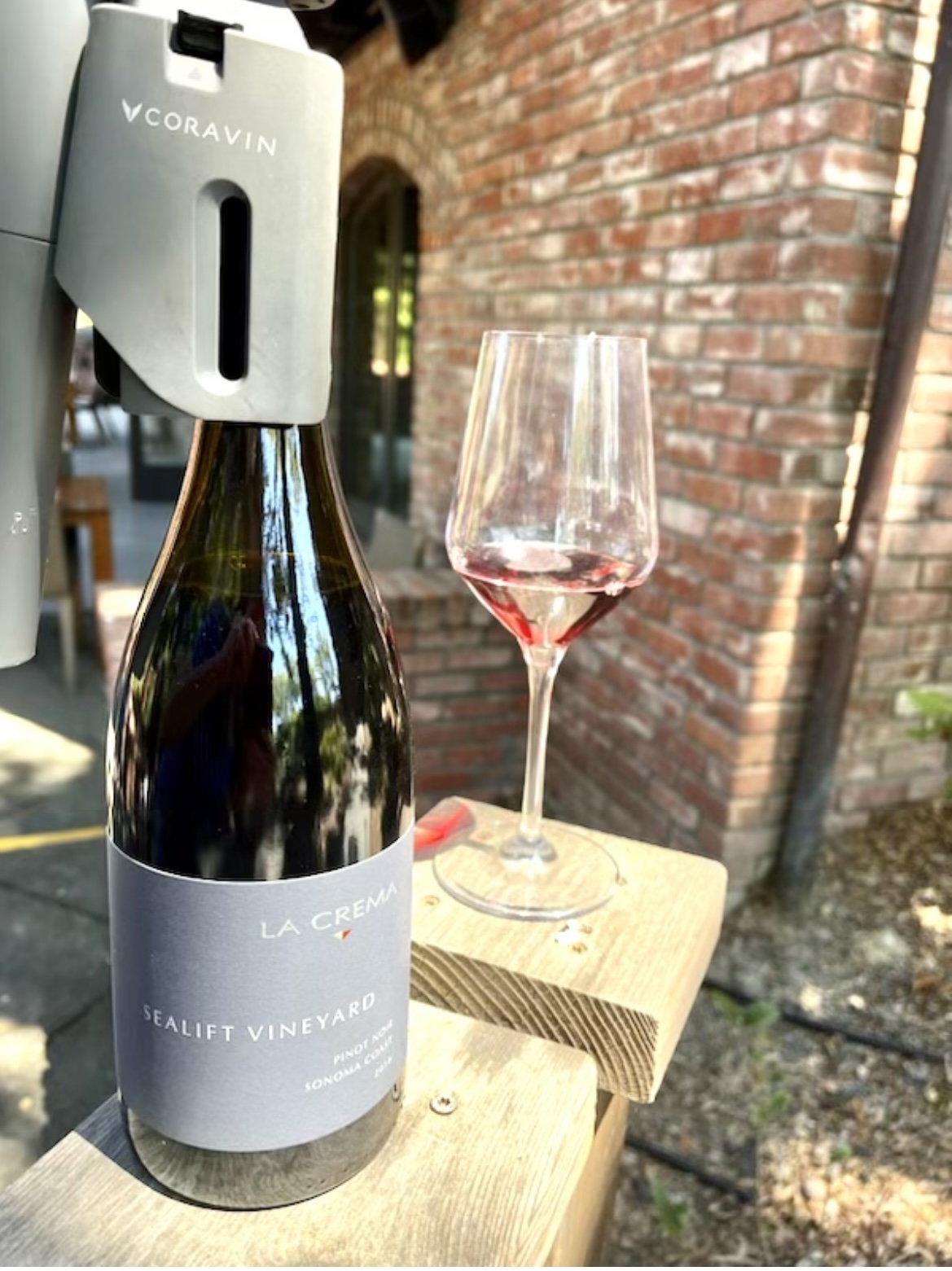 Tasting La Crema's Pinot Noirs – Photo by Jill Weinlein
Hughes led us to the covered pool area and shaded brick patio for our final tastings. The 2021 Saralee's Vineyard Pinot Noir is made with a mosaic of Pinot grapes. 'They are in the barrel for at least 10 months,' she said. We noted a lovely floral and berry aroma, and pleasing flavors of black cherry, cranberry and a hint of coffee with each sip. 
The last taste of the tour was a 2021 Skycrest Vineyard Pinot Noir. It was smooth and very easy to drink. Made from grapes near Boonville in the Anderson Valley, this ruby red wine stays longer in the barrel to provide bright and beautiful blueberry, ripe plum, hints of black tea and exotic spices on ones palate.
Next time you are in Sonoma Valley, make a reservation to learn about La Crema's winemaking dedication. From grapes growing at Saralee's Estate to the vineyards in Arroyo Seco, Monterey, Los Carneros, Sonoma Coast, Anderson Valley and up in Oregon's diverse Willamette Valley, the sustainability practices, eco-management and healthy terroir provides outstanding Chardonnay and Pinot Noir wines.