Independence Day makes guys realize two things: that extra bottle of ketchup in the back of the cabinet wasn't actually there (though they could have sworn it was), and they should probably listen to their spouses more. But the holiday also serves as a rude awakening of how poorly last year's summer clothes fit. Thankfully, after storming the J.Crew summer sale online, I found a way to add six new pieces to my summer wardrobe for $103 — here's how I did it.
In my case, the need for new summer clothes stemmed from a combination of change in body shape and outdated styles — a typical story for many guys. So I turned to J.Crew as the retailer's summer sale just went live with a whopping offering of 60% off all current sale styles with special promo code "FOURTH." J.Crew has been great about including same-season markdowns, so I knew I could find wear-it-now stuff and run away with the savings.
The best men's clothing items to hit during the J.Crew summer sale are men's summer shirts, men's t-shirts, men's shorts, and men's swim trunks. There's a ton to pick from right now, but after combing through the hundreds of options, these six specific items will work for nearly any guy with any shape and instantly make them (and me) look cooler.
Men's Journal aims to feature only the best products and services. We update when possible, but deals expire and prices can change. If you buy something via one of our links, we may earn a commission. Questions? Reach us at [email protected].
Slim Untucked Secret Wash Cotton Poplin Shirt, $24 after promo (was $90) at 
J.Crew 
J.Crew is in the conversation of brands that do neutral colors the best and is potentially the best option for gingham prints. This baby blue gingham button-down is from the brand's Secret Wash collection, a hyper soft to-the-touch, lightweight material well-suited for warmer months. The Slim Untucked fit is the ideal length for casual summer wear because it doesn't drape beyond the belt line as a traditional dress shirt does. For those who wish to tuck, a regular Slim and Classic version are available as well.
[$24 after promo; jcrew.com]
9-Inch Stretch Chino Shorts, $13 after promo (was $70) at
J.Crew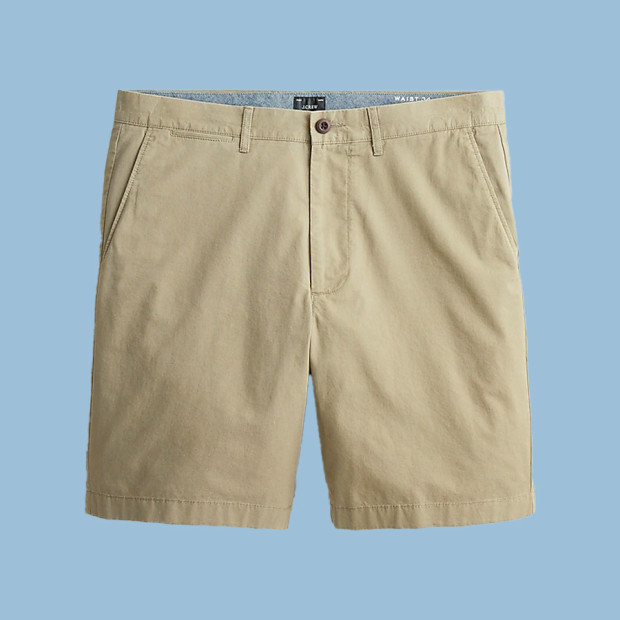 The khaki dad short is a dependable lifeline of summer menswear to pull out when other options aren't panning out — they just go with everything. While J.Crew offers an array of inseams, and despite the literal upward trend of 5-inch shorts, this 9-inch style remains the comfort zone for many guys, landing a few inches above the knee. This updated cotton short has the right amount of stretch for easier walking around on those swampy days.
[$13 after promo; jcrew.com]
6-Inch Stretch Swim Trunk in Paisley, $14 after promo (was $90) at
J.Crew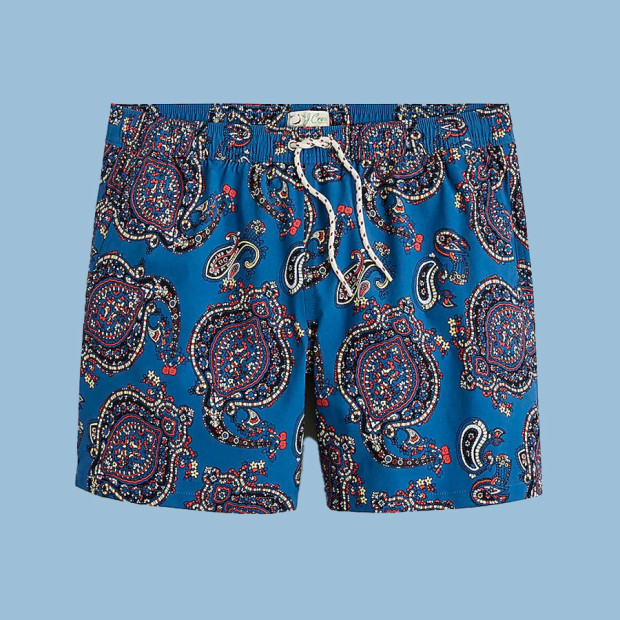 Swim trunks should be fun. There's no way to go tubing as a fully-grown man and not look silly anyway, so why shouldn't your swim trunks reflect that? These stretch swim trunks from J.Crew are built for comfort and convenience. They're UPF 50 protective, which is ideal for long sun exposure, with a mesh lining and even a keychain loop in the waistband. The 6-inch inseam offers more maneuverability with a larger range of motion for the legs, even when soaked. But mostly, paisley is a fun print!
[$14 after promo; jcrew.com]
Short Sleeve Camp Collar Shirt, $20 after promo (was $80) at
J.Crew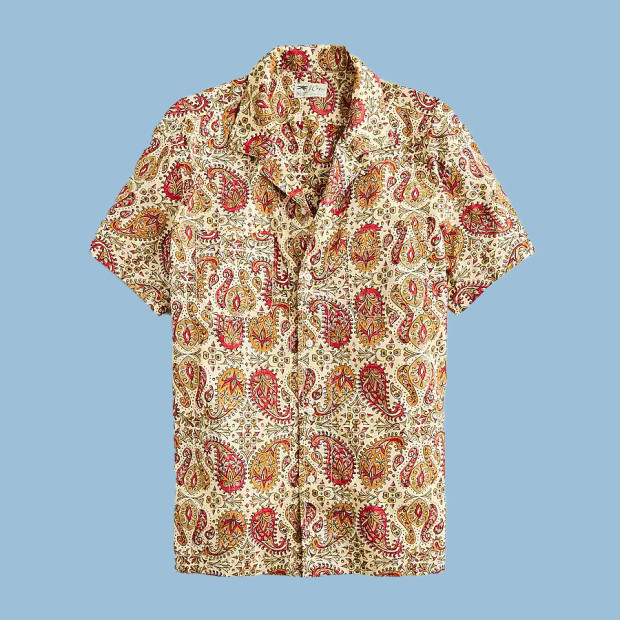 Similarly to swim trunks, short sleeve shirts should be fun. Sure, dressier summer parties or a tee time may require something more traditional. But this casual short sleeve camp collar shirt, specifically in this earth-tone paisley print, can be styled in so many ways. This is a great option to wear with white summer jeans or chinos, offering some loud color on top of a blank canvas. The same goes for the aforementioned khaki shorts and even the swim trunks. And no, it's not too much paisley. Add a gold chain necklace for good measure.
[$20 after promo; jcrew.com]
Garment Dyed Slub Cotton T-Shirt, $10 after promo (was $37) at
J.Crew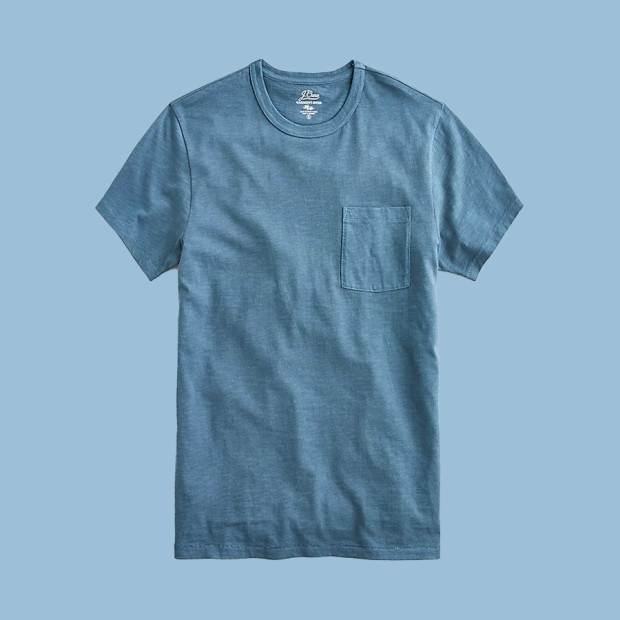 J.Crew has consistently ranked well among MJ's best t-shirts for men, and this one is on sale for $10. Though the Broken-In T-Shirt collection is one of our favorites, the brand's Garment Dyed Slub style has summer written all over it. It's made with a great lightweight fabric, and this color, dubbed "Amalfi Coast," is a great seasonal alternative to navy blue. Like many J.Crew t-shirts, this style is available in three fits—Classic, Slim, and Tall—and comes in up to 13 colorways for broadening a summer wardrobe's staples. Best of all, it's just $10 during the sale.
[$10 after promo, jcrew.com]
Classic Pique Polo Shirt, $22 after promo (was $80) at 
J.Crew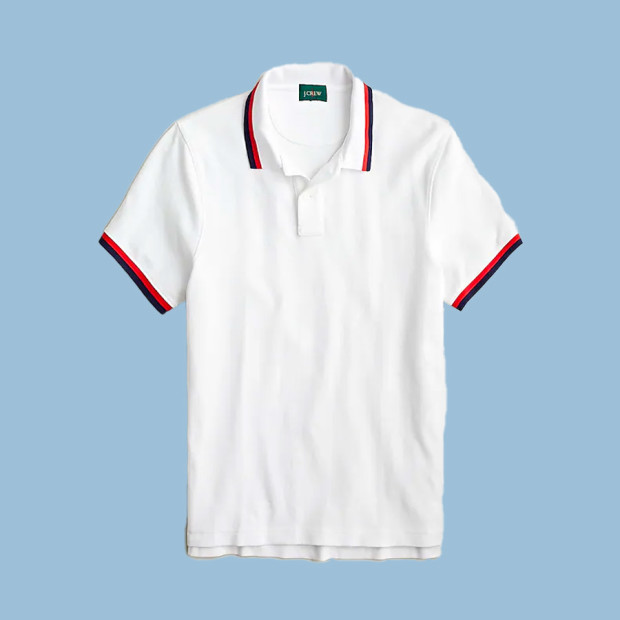 Channeling some nostalgic Lacoste vibes, the J.Crew Classic Pique Polo is selling out quickly—especially at just $22 after the promo. The tipped polo style (how we refer to the stripes) is a commodity for men's clothing in the summer. The less-is-more stripes are iconic and offer something more than a boring, plain shirt. This is the ideal polo for a round of golf, for a summer birthday party, or simply a Novak Djokovic look-alike contest. Breezy and flexible, this style is intended to be tucked in for such occasions.
Like many J.Crew shirts, it's available in multiple fits and comes in bold navy blue with white tipping. Just watch out around the red wine and pasta if you opt for the white.
[$22 after promo; jcrew.com]
Breaking Down the J.Crew Summer Sale
Each item here is a sale item, which makes it eligible for the special promotion and the extra discount. But here's the math to show you how the transaction breaks down:
Full Price: Rounded, $447

Sale Price:Rounded, $257

Final Price after using code "FOURTH," rounded: $103
If there's one downside to the J.Crew summer sale, it's that items purchased during this promotion are considered final sale, meaning they're not allowed to be returned or exchanged — fortunately, most J.Crew sizing is close to the industry average. If you're still unsure about sizing, look to see if there's another fit available in your size. For example, if a Slim Large isn't available, consider a Classic Medium or vice versa. 
Also Read:
The 9 Best Sales for 4th of July You Can't Afford to Miss
Solo Stoves' Smokeless Fire Pits Are as Low as $80, Kicking Off 4th of July Sales
The 5 Most Shocking Home Deals From Anthropologie's 4th of July Sale Up to 55% Off
Prices are accurate and items in stock at time of publishing.