Jill Weinlein
Victoria Distillers is a family-run small batch premium gin facility in Canada. For over 10 years, they have produced some of the best handmade spirits on the waterfront of Sidney, British Columbia. 
Inside the distillery are copper pot stills that produce a range of spirits including their award-winning gin. "Each copper pot still costs $250,000," said Peter Hunt, President of the distillery who helped lead the team in a collaboration with the Fairmont Empress Hotel to create Empress 1908 Gin.
Since 1908, travelers from around the world have visited the majestic Fairmont Empress Hotel. Hunt was the Master Distiller for 9 years, and has his Master's degree in molecular biology. "I approached the Fairmont Empress and asked if they wanted to make gin together," said Hunt during a gin tasting. "We explored the teas in the Empress tea room and tasted over 20 different teas to infuse into our gin." Blue Suede Shoes made with Butterfly pea blossoms won and is what gives Empress 1908 gin its distinct indigo blue color.
Inspired by our beautiful location in Victoria, British Columbia, Empress Elderflower Rose Gin pays homage to 'The City of Gardens,' where flowers blossom nearly year-round. The fresh, floral botanicals create a delicate spirit with a distinctive all-natural rose hue, adding a touch of our home to your next cocktail creation. 
Tasting Notes
Nine beautifully blended botanicals create a delicate spirit with a stunning all-natural rose hue. Empress Elderflower Rose has a rich aroma and a surprisingly understated floral palate. With exquisite citrus and spice notes and a hint of sweetness, Elderflower Rose Gin allows each botanical to shine.
Empress 1908 Oaken Gin
Beautifully smooth and buttery, this cocktail spirit is gracefully matured in oak, imparting notes of vanilla and caramel. Try Empress 1908 Oaken Gin in an Old Fashioned, Manhattan or Negroni, or let creativity be your guide.
Tasting Notes
Softened vanilla notes from the oak, a full buttery caramel sweetness.
Accolades
Double Gold, San Francisco World Spirits Competition, 2016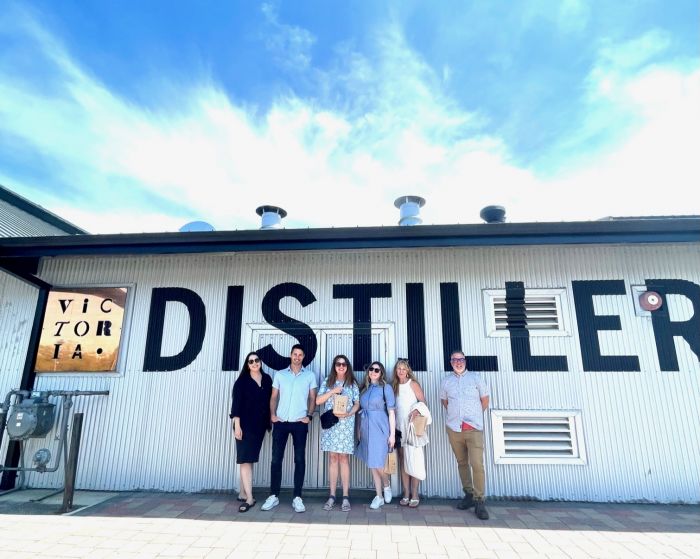 Jill Weinlein
Established in 2008, as one of the first artisan distilleries in Canada, Victoria Distillers uses Canada's best-tasting water and finest ingredients to make their spirits. They moved to their waterfront location in 2015.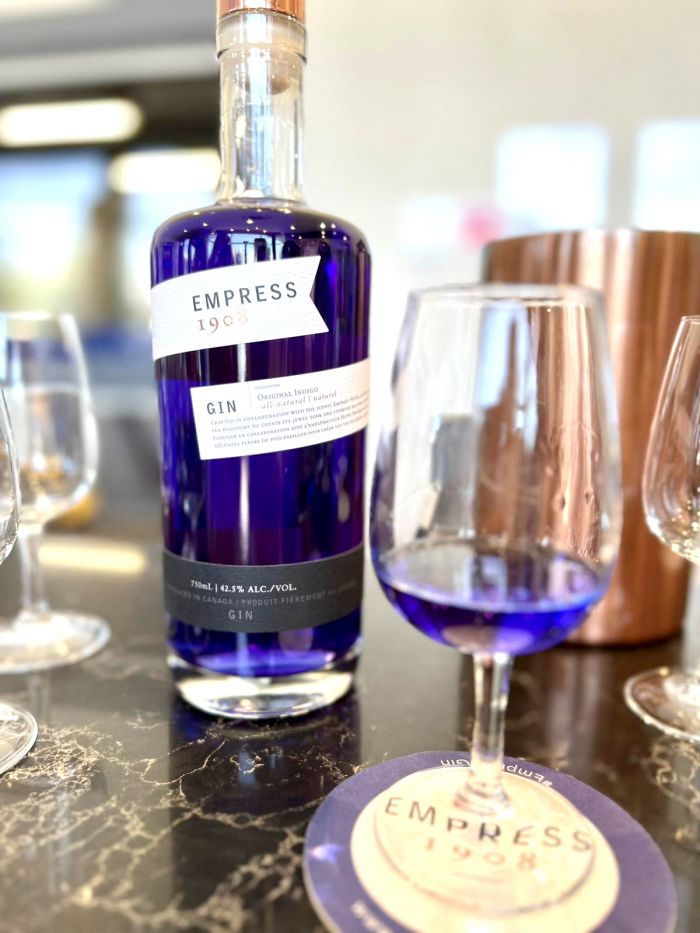 Jill Weinlein
Empress 1908 gin offers distinctive earthy notes with a balance of citrus flavors. When making an Empress & Tonic cocktail, using the dark indigo color Empress 1908 Gin, premium tonic water changes the dark appealing purple to a beautiful lighter lavender hue. Add a slice of grapefruit, and one has a refreshing gin beverage.
In 2018 they launched the beautiful Empress 1908 Gin in the United States. This great quality spirit with its beautiful color not only tastes great but is approachable. It works well in making several cocktails.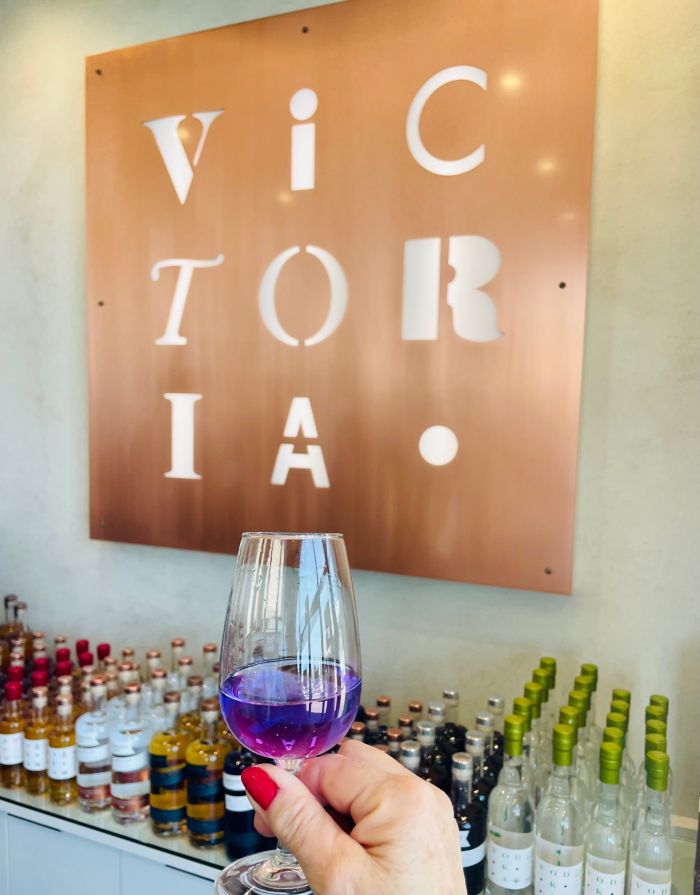 Jill Weinlein
Empress 1908 Indigo Gin
Handcrafted in small batch copper-pot stills, Empress 1908 Gin is created by Victoria Distillers and inspired by the legendary Fairmont Empress Hotel in Victoria, British Columbia. In addition to more traditional botanicals, we add a signature blend of black tea served at the Empress Hotel, and butterfly pea blossom, an exotic herb that balances the traditional citrus notes of gin with a warm herbal earthiness, and natural indigo color. Empress 1908's combination of exquisite taste, delicate aroma, soft texture, and remarkable presentation provide the perfect base for a new aesthetic of cocktail creation and enjoyment.
Tasting Notes
A forward earthiness from butterfly pea blossoms and Fairmont Empress House Tea blend, followed by robust citrus notes from grapefruit peel, delicate floral hints from rose petals and warm spice from ginger and cinnamon.
Accolades
Gold Medal, New York World Wine & Spirits Competition, 2017 Best Alcohol Drink, World Beverage Innovation Awards, 2017 Judge's Selection, Alberta Beverage Awards, 2017
Visit empressgin.com for more info, recipes and inspiration!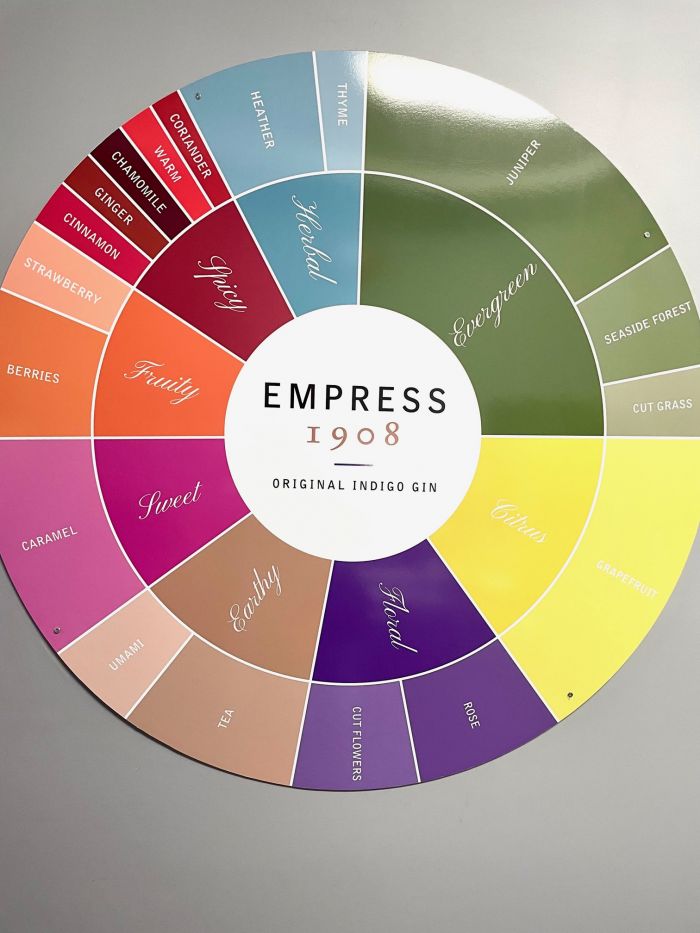 Jill Weinlein
Some of the inspired ingredients besides Butterfly Pea Blossom and Juniper include grapefruit peel, coriander seed, cinnamon bark, rose petal and ginger root.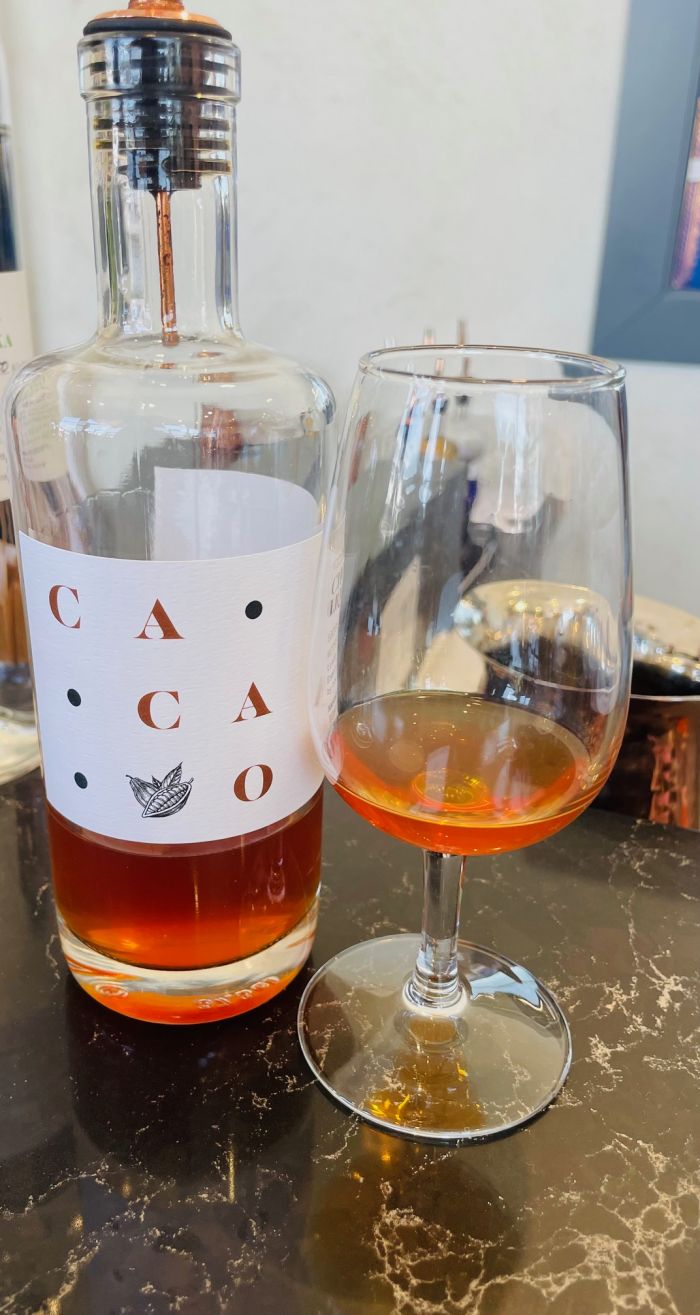 Jill Weinlein
Chocolate Liqueur
Fair trade cacao nibs and husks, grown at Costa Esmeraldas Farm in Ecuador and refined by Sirene Chocolate Makers in Victoria BC, are macerated in a pure cane spirit. A touch of sweetness is added to bring out the flavor of the organic chocolate.
Tasting Notes
Reminiscent of a fine dark chocolate bar.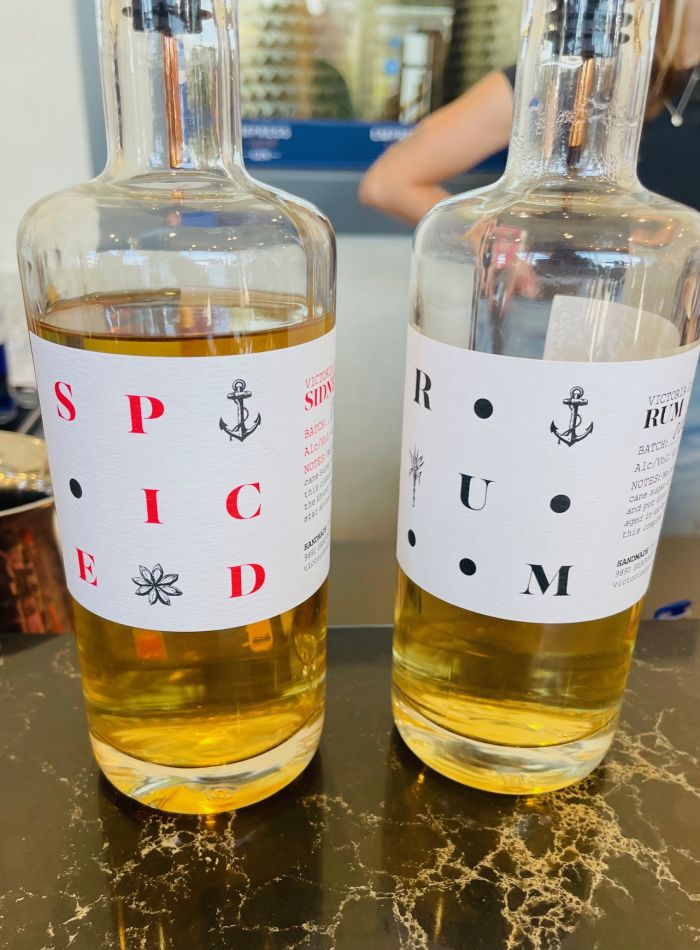 Jill Weinlein
Sidney Spiced
This aromatic spirit is distilled from molasses and Level Ground Trading's fair trade organic cane sugar. The addition of carefully selected organic vanilla beans, orange peel, ginger root, star anise seed and orris root give this classic spirit further warmth and complexity.
Tasting Notes
Warm spice, with a subtle sweetness and bright citrus note.