From Texas tacos and Miami ribs to Maryland oysters and Midwest spuds, we're singling out the 13 best dishes in America, a deliciously difficult endeavor. America's tastiest meals are forever stuck in our heads. Now they're in yours. And there's coconut cake for dessert.
13 Best Dishes in America We Can't Stop Thinking About
1. Bone Marrow Tacos: Comedor—Austin, TX (shown above)
The very last restaurant meal we had out before the lockdown waves of 2020 began was at Comedor, Philip Speer's modern Mexican hideaway in Austin, where they serve bone marrow dusted with Texas-proud pecan gremolata and served over a meadow of quelites (wild greens) with a basket of housemade tortillas for DIY taco-building. The beef jelly running like veins of black gold down the canoe-cut bones is unctuous, savory, delicious and still living rent-free in our brains. Scoop some out onto a tortilla, warm and redolent of the corn from which it was made, squirt a little lime on top to balance the fat and let them move into yours too. comedortx.com
2. Korean Sweet Potatoes: Young Joni—Minneapolis, MN
A fact: Chefs cannot resist sweet potatoes. Show a chef a sweet potato, and they'll show you a dozen spicy, smoky, fatty, acidic things they'd like to paint all over this sugar-and starch canvas. And when this is done right, in the hands of a chef like James Beard Award winner Ann Kim of Young Joni in Minneapolis, the sweet potato becomes more than itself. Her wood-roasted wedges of ivory sweets rise from a shmear of tangy, scallion crème fraîche. Thin slices of pickled Fresno chiles bring sharpness and the perfect measure of heat. A fistful of bonito flakes, dancing like embers against the warmth of the potatoes, introduces an unusual, irresistible marine umami. Kim's sweet potatoes may ruin you for all others. youngjoni.com
Related: Betty Buzz: Sparkling Mixers Worthy of Cocktails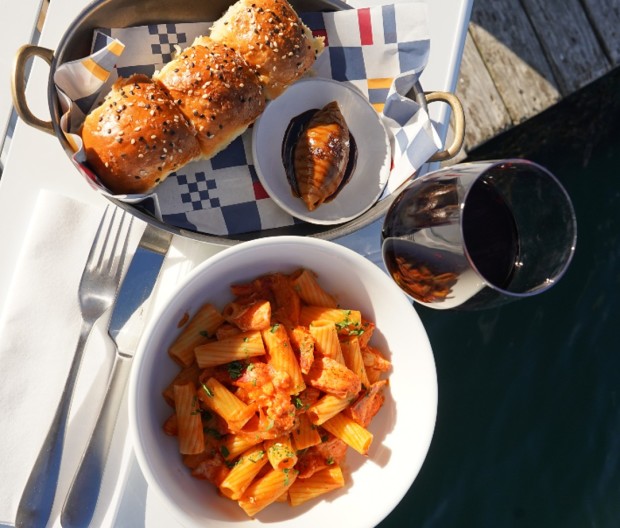 3. Lobster Rigatoni Alla Vodka: Dennett's Wharf—Castine, ME
Blushing pink vodka sauce is the domain of penne palaces, pizzerias and catering halls. You don't expect to find it in a flyspeck Maine harbor town (Castine), at a recently resurrected waterfront restaurant with ancient history as a boatyard and bowling alley (Dennett's Wharf ), prepared by a native Georgian who last cooked at Michelin Bib Gourmand in Brooklyn before moving north (chef-partner Taylor Hester). Tomato paste slowly caramelized to a deep, moody maroon is the foundation of the sauce. "It takes a lot of attention and love, 30 minutes of constant babying, stirring with a wooden spoon, to make sure it doesn't burn," Hester says. "Part of the reason I like this dish is it takes a lot of technique and personality." Part of the reason we like it is the voluptuous sauce, laced with Calabrian chile. The other part is the loads of knuckle and claw from lobster landed in nearby Stonington, tossed through the ridgebacked rigs. "It's a cool example of something that's really ingredient- and technique-driven, but not cramming fine dining down your throat," Hester's partner, Max Katzenberg, says. "You crush bowl, you're stuffed—but you still want more." dennetts.co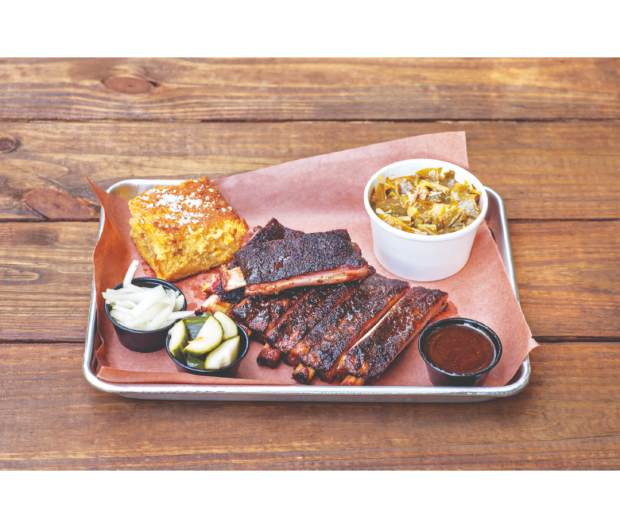 4. Ribs: Drinking Pig BBQ—Miami, FL
Don't be alarmed by the man with the chainsaw roaming around North Miami. "A lot of people cut oak down in Florida, so if I see a tree by the side of the road, I'll chop it up, put it in my truck and bring it home," says Raheem Sealey, who runs Drinking Pig with wife/co-chef Yohanir Sandoval and Mark Wint. The pandemic-project barbecue joint is powered by that salvaged oak—ideally the young green type. "Super-dry oak is very combustible," explains Sealey, "while the green oak gives us more temperature control and a different flavor." Drinking Pig is a world-class smokeshow in a city where "barbecue" and "crispy skin" are more likely to refer to the bodies on Miami Beach than brisket or chicken. Both of those proteins are killer at Drinking Pig. But the real reason to hoof it out to Golden Glades (where the trio pops up in front of Wint's house) and subject oneself to a tray of smoked meat when the 98 percent humidity makes you want to eat ice cubes for dinner? The real reason for all that is the ribs. Rubbed with brown sugar and mustard, the crew smokes them in foil sarcophagi over that freshly felled lumber, almost supernaturally dialed-in on flavor and texture. The KC meets Korea sauce is an inimitable caramel-ketchup-garlic-sesame nod to the trio's time cooking together at KYU in nearby Wynwood. The succulent pork breaks away from its bones without being a total pushover about it. This is barbecue with teeth. drinkingpigbbq. com
Related: How to Make a Dirty Martini to End All Dirty Martinis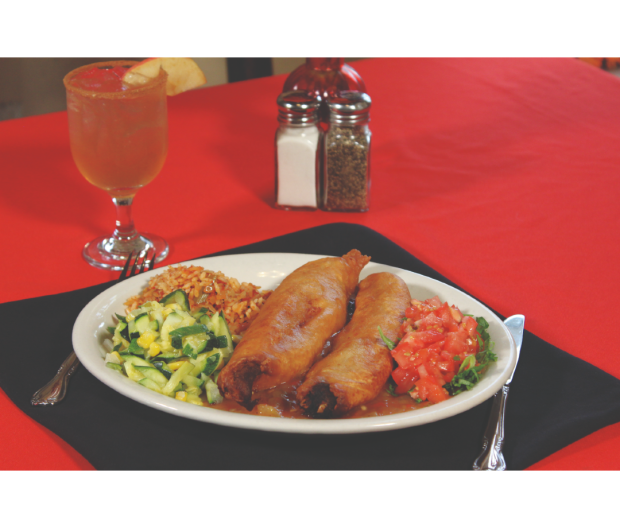 5. Chile Rellenos: Rancho de Chimayó—Chimayó, NM
Up in the Chimayó, about 45 minutes north of Santa Fe, there's a rack of forgotten crutches in the chapel of El Santuario, a Catholic church and place of pilgrimage whose holy soil is said to heal those unable to walk. It's a popular site for both faithful and secular tourists, who typically tack on lunch at the Jamarillo family's nearby restaurant, Rancho de Chimayó. In this restored, red-roofed hacienda, the New Mexican cooking makes liberal use of the skinny Chimayó chile. But for the bombastic chile rellenos, the state's more famous Hatch pepper gets the job done. Stuffed with Monterey jack, battered and fried golden, the peppers look like sticks of dynamite, their stems poking out of the shells like fuses waiting to be lit. The explosions happen with no ignition: crunchy, tender, gooey, smoky, spicy, sweet, unforgettable. The pilgrims walk 100 miles from the city to the sanctuary. We'd do the same for this dish. ranchodechimayo.com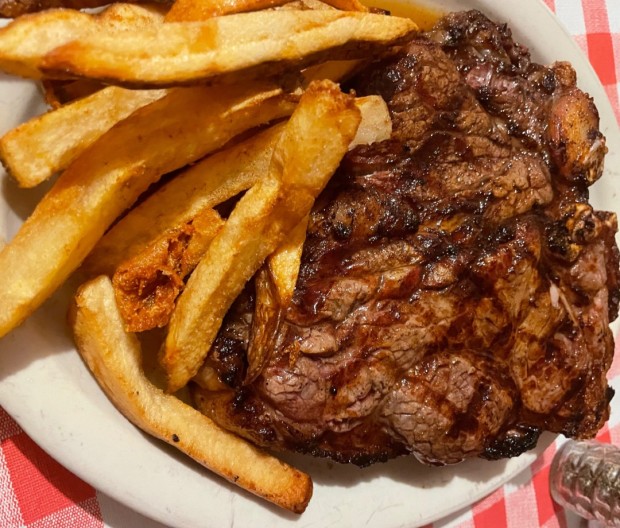 6. Porterhouse: Doe's Eat Place—Greenville, MS
It's hard not to be moved by the sight of the Bible-thick porterhouses lined up on the open broiler at Doe's Eat Place. Two-plus pounds apiece, brawny and charred, you pass the steak as you enter this James Beard America's Classic award winner through the kitchen. How could you order anything else? The tamales, a Mississippi Delta mash-up of Black and Mexican culinary cultures, make a strong case, but really this white clapboard building is church for steak lovers. Originally a grocery founded by the Signa family from Sicily, Doe's became a tavern that served African-American customers in the front and—once word got around about how good the food was—white customers who lined up at the back door, an inverse of segregationist policies. Greenville in the 1940s had a reputation for tolerance relative to the rest of the state. Everyone still eats together in this humble dining room, and mostly they eat beef. Buttressed with house-cut fries, the porterhouse is rightly king—its bone bisecting a tenderloin and strip grilled to medium-rare perfection. doeseatplace.com
Related: Campfire Cooking 101: How to Make Amazing Meals Over an Open Fire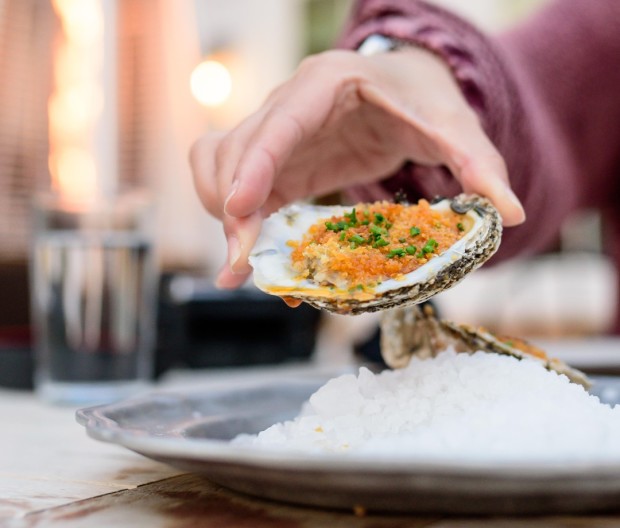 7. Roasted Oysters: Ruse—St. Michaels, MD
They're called Wild Divers for a reason. Harvesters plunge into the icy Chesapeake with scuba tanks on their backs and plump native oysters on their minds. Carefully selected by hand, the mollusks make their way to dozens of restaurants along the bay—among them Ruse at the smart Wildset Hotel in the preppy town of St. Michaels. Chef Michael Correll oversees an entire program of raw shellfish, which guests order with a golf-type scorecard and tiny pencil. There are some fine specimens on the half shell, but what we can't get over are the roasted Wild Divers. Ferment-y and fiery Calabrian chile paste gets whipped into butter and packed with garlicky breadcrumbs into the oysters' fluted cups. In the oven, the heat melts the butter, amps the spice, browns the crumbs into crusty lids and gently sets the meats so the oysters become something to actually eat rather than throw back with a lashing of vinegar. Purists say a great oyster needs nothing. Ruse cross-examines that wisdom with an all-senses-on-deck approach. ruserestaurant.com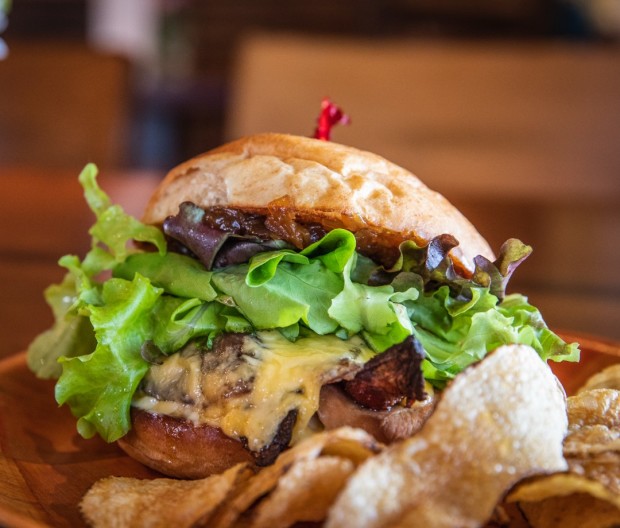 8. Smoked Chicken Sandwich: The Wich Haus—Whitefish, MT
When the snow has fully ceded to the scruff and wildflowers on Whitefish Mountain is when you want to visit the Wich Haus, an ingredient-driven sandwich shop between downtown Whitefish and the base of the slopes. Orion and Ellie Heyman (a Montana native and New Jerseyan, respectively) have created a smart, special spot in this Wild West meets wild wealth resort town near Glacier National Park. Their menu is a résumé of the Treasure State's unexpected agricultural riches, packaged in sandwich form. Their biggest hit is this thinly shaved smoked chicken and crispy bacon situation, joined with a peppery corsage of mixed greens, sticky sweet onion jam and smoked Gouda on a house-baked bun made from locally grown and milled flour, smeared ever so gently with garlicky mayo. Order at the counter, eat in the backyard, under the endless Montana sky. thewichhaus.com
Related: Beer Recipes That Use Your Favorite Brews in Clever Ways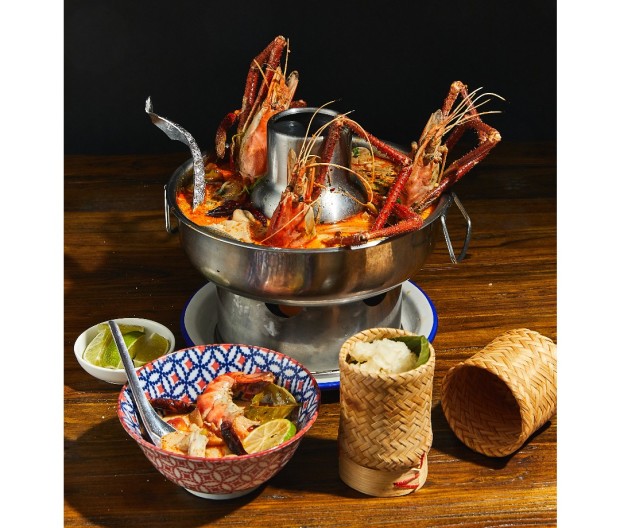 9. Tom Yum: Kalaya—Philadelphia, PA
The long-legged Sri Lankan river prawns are fixed in mid-clamber, a tangle of antennae and joints emerging from a coral broth that Nok Suntaranon, chef and owner of Kalaya in Philly, describes as "kook shop-style, developed by Chinese cooks" who were hired by the Thai aristocracy. "They made the tom yum, our classic soup, milder with evaporated milk." Suntaranon, who grew up in Bangkok, loves the luxurious texture the dairy adds, and so do we. It's a velvet cloak that softens (without hiding) the spicy and sour twanginess typical of tom yum—served tureen style here with barramundi and Pennsylvania mushrooms joining showstopping prawns. "When I create a dish, I won't stop until it's stunning," Suntaranon says. "I just keep going." To wit: Kalaya just moved from its snug home in the Italian Market to a huge, new Fishtown space that quintupled her seating. Thankfully, the tom yum also relocated. kalaya.net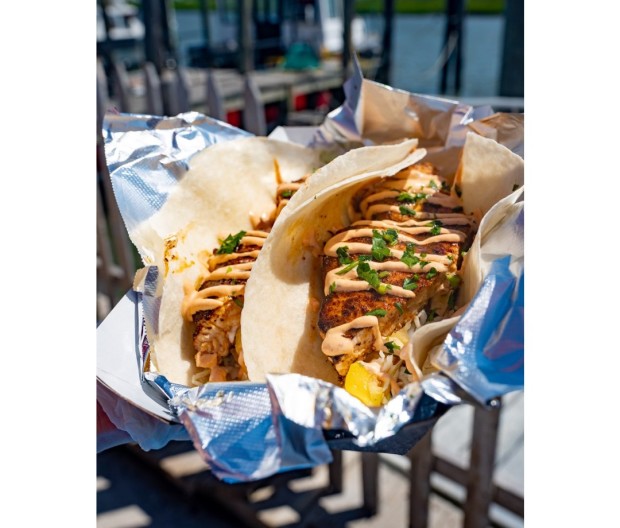 10. Deep-Drop Swordfish: Hooked Up Seafood—Wildwood, NJ
Bill Bright likes his swordfish cold. The swordfish feel differently. In the summer and early fall, when Bright, a career New Jersey fisherman, and his family run Hooked Up Seafood on the road into the beach-and-boardwalk town of Wildwood, the upper water column of the Atlantic can reach 80 degrees. Warm water = warm fish = accelerated expiration clock. Catching sword this way, Bright says, "We weren't always getting back on time." So a few years ago, he began dropping long lines down deep to catch sword as they followed their primary food source, squid. The result: "Core temperature of 50 degrees, a live fish that's already chilled," says Bright. Dual translation: good for business (sword caught and held at this temp will last two weeks) and better for eating. The fish remains cold until Bright's wife, Michele, or one of their four kids (Tess, Sara, Sam, Will) tosses a huge fillet on the griddle in Hooked Up's snug kitchen trailer, with or without an audacious blackening spice. Plated with your choice of two sides (lemony Italian salad, tangled buttermilk onion rings, house-cut fries, Jersey corn) and served at a dockside picnic table with views of the sunset-streaked bay, the fish tastes like it has butter running through its veins, its texture firm but luscious. We've road-tested this dish dozens of times, always waiting for the other shoe to drop. But no—Hooked Up's deep-drop sword is simply, consistently the best piece of fish we've ever eaten. hookedupseafood.com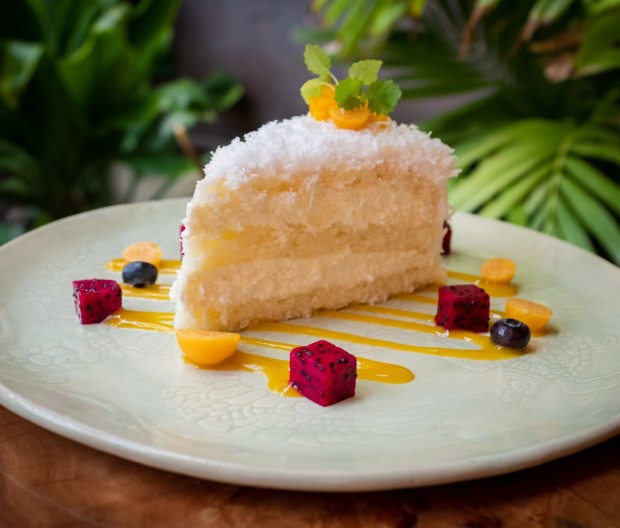 The Sweet Hereafter
Not a dessert person? These heavenly last courses will see about that.
11. Coconut Chiffon Cake: Mama's Fish House—Maui, HI
Everything at Mama's Fish House in Paia, on Maui, is big: the dining rooms, generous hospitality, prices, hype from former honeymooners who gush, "You have to go there!" The largesse extends to the superlight, triple layer Coconut Chiffon Cake (shown above), so covered in shaved coconut the wedge looks furry. Too full? Order it anyway. mamasfishhouse.com
12. Sour Cherry Streusel Pie: Rye—Leawood, KS
Passing through the KC area in June? Beeline to Rye in Leawood, KS, for co-owner/ chef Colby and Megan Garrelts' Sour Cherry Streusel Pie. Dried and fresh local fruit make the filling chewy, juicy, sweet and tart—a burgundy knockout between flaky crust and crunchy spiced streusel. ryekc.com
13. Sonhos: Kouklet Brazilian Bakehouse—Philadelphia, PA
In America, we have doughnuts. In Italy, bomboloni. And in Brazil, Sonhos, which Mardhory Cepeda makes with sourdough at her Kouklet Brazilian Bakehouse in South Philly. Shaped into tennis-ball-size bites, fried, sugared and packed with thick milk custards, these plush and tangy doughnuts earn their name—Portuguese for "dreams." kouklet.com
Related: Smoothie Recipes to Lose Weight, Build Muscle, and Maximize Nutrients