Bill Milne
When Café Boulud first opened inside the stylish Brazilian Court Hotel in Palm Beach back in 2003, it set out to transform the restaurant industry.
Once again, the elegant eatery is on a quest to make a lasting impression – this time on the West Coast when a much-anticipated location debuts later this year.
Under the tutelage of Michelin-starred Executive Chef Daniel Boulud, the beloved French restaurant will be opening a new swanky Beverly Hills spot at the Mandarin Oriental Residences. This location will join Boulud's remarkable roster of restaurants that span all the way from New York to Singapore.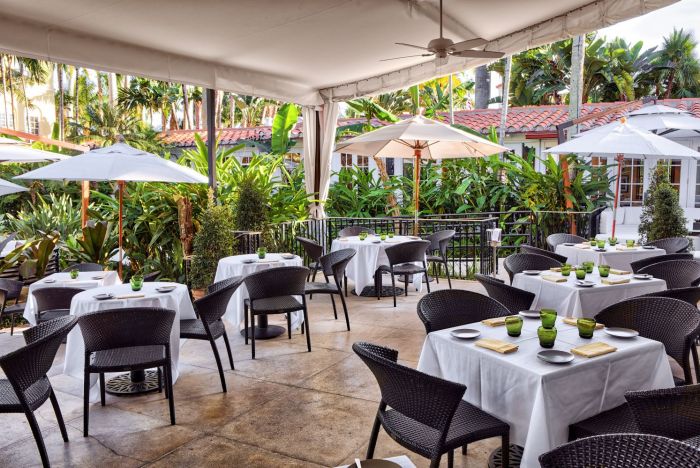 Libby Vision
On a recent visit to the Palm Beach location, we were seated in the beautiful courtyard to enjoy their year-round alfresco dining. White tablecloths topped with candles at this French-American favorite provide a bit of formality while wicker-style chairs offer a chic vibe.
Classic staples like a gin martini are shaken to order, while creative cocktails like A Play on Hemingway are flawlessly presented.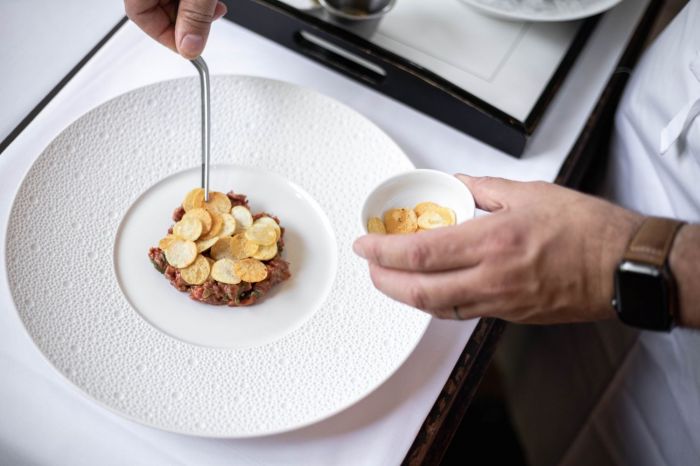 Bronwyn Knight
The elevated dinner menu here features a raw bar selection that ranges from Osetra caviar to east and west coast oysters.
Don't miss the standout Florida stone crab claw offering -five pre-cracked claws arrived, making it extra easy to remove the meat.
The decadent Japanese Hamachi and citrus was presented looking more like a work of art. This must-try dish was served with avocado and cucumber in a carved-out Florida orange decadently topped with Osetra caviar.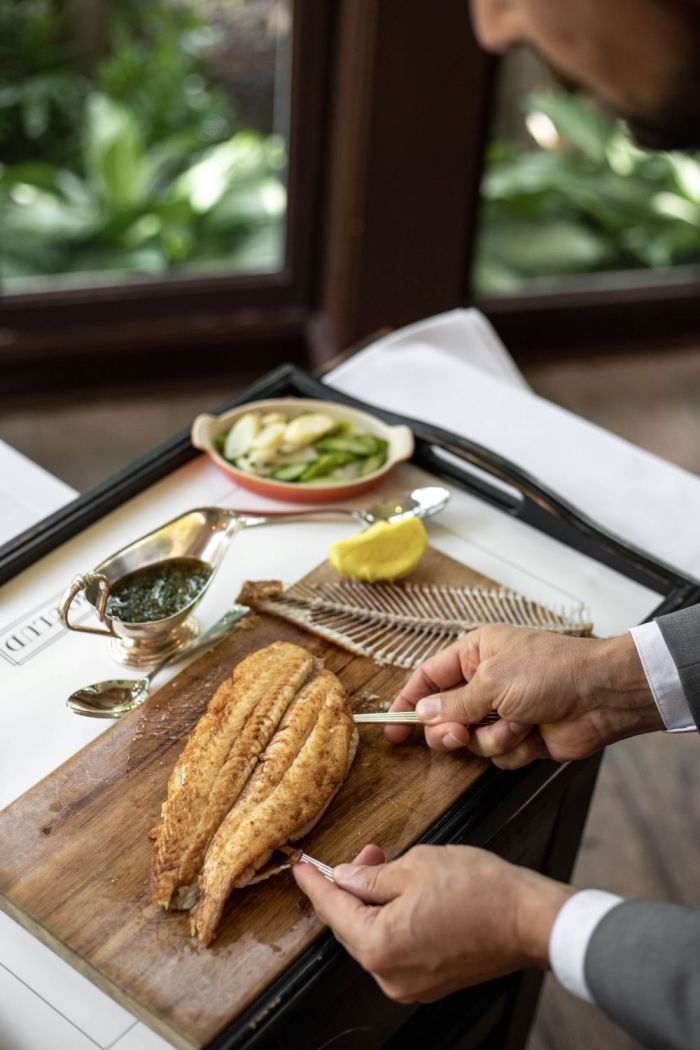 Bronwyn Knight
When it comes to main events, the signature Brittany Dover sole takes center stage. Our server rolled over a dinner cart with the sole presented atop a cutting board where he proceeded to quickly and delicately debone the fish and top it with a heavenly sauce meuniere. It was one of the most sophisticated presentations we have seen.
The glazed duck breast was cooked to our medium rare liking and combined the tasty flavors of ginger, apple and honey. While some dishes do include accompaniments, we recommend complementing entrees with a sampling of their side dishes. The sauteed spinach and broccolini were standouts.
Café Boulud underwent renovations in 2015 transforming the stylish interior. The ceiling is now made of seashells and Pecky Cypress; the elegant bar was expanded, and a new cocktail/bar menu was introduced. The restaurant sits prominently inside the Brazilian Court Hotel which has been a European old-world hideaway for the rich and famous since the 1920s. 
Located just steps from the high-end boutiques and galleries along Worth Avenue, the recently refreshed hotel has been a favorite of celebrities. Since its opening back in 1926, the intimate 80-room property has hosted Palm Beach power players, media moguls and socialites from Gary Cooper and Greta Garbo to Amelia Hearst and Marjorie Merriweather Post.
Café Boulud is located at 301 Australian Avenue in Palm Beach.