Great hospitality is showing, not telling. When I arrive at Eastwind Hotel in Windham, NY, it's well after dark, rush-hour traffic ballooning a two-hour, 45-minute drive from Brooklyn closer to four. I belly up to the bar at the Bunk House Lounge to check in and my eyes immediately fix on a guest's bowl of fettuccine Alfredo. It doesn't go unnoticed.
"You want some?" He asks.
A storm had just passed through, plummeting temps into the teens. A neat row of icicles festooned the hotel's gutters and the trees, with a fresh dusting of snow, looked like Frosted Mini-Wheats. Pasta and a glass of red wine is the culinary cure-all for spent nerves, winter blues—well, pretty much anything. There was only one right answer.
"Absolutely," I say.
I have an inkling this isn't just another guest when he goes straight into the kitchen and returns with a bowl. Turns out the man of the hour is Bjorn Boyer, co-owner of Eastwind Hotels. And he isn't doling out leftover pasta from the hotel's supper service (which I learn is only available Fridays and Saturdays; I'm here on a Monday). He's sharing his own dinner, made from scratch.
We sit across from one another, elbows planted on the bar top, and discuss the origins of the Windham property. A sip of pinot noir, a twirl of fettuccine—the tension of the day unfurls, replaced by a quiet calm. And I haven't even seen my room yet.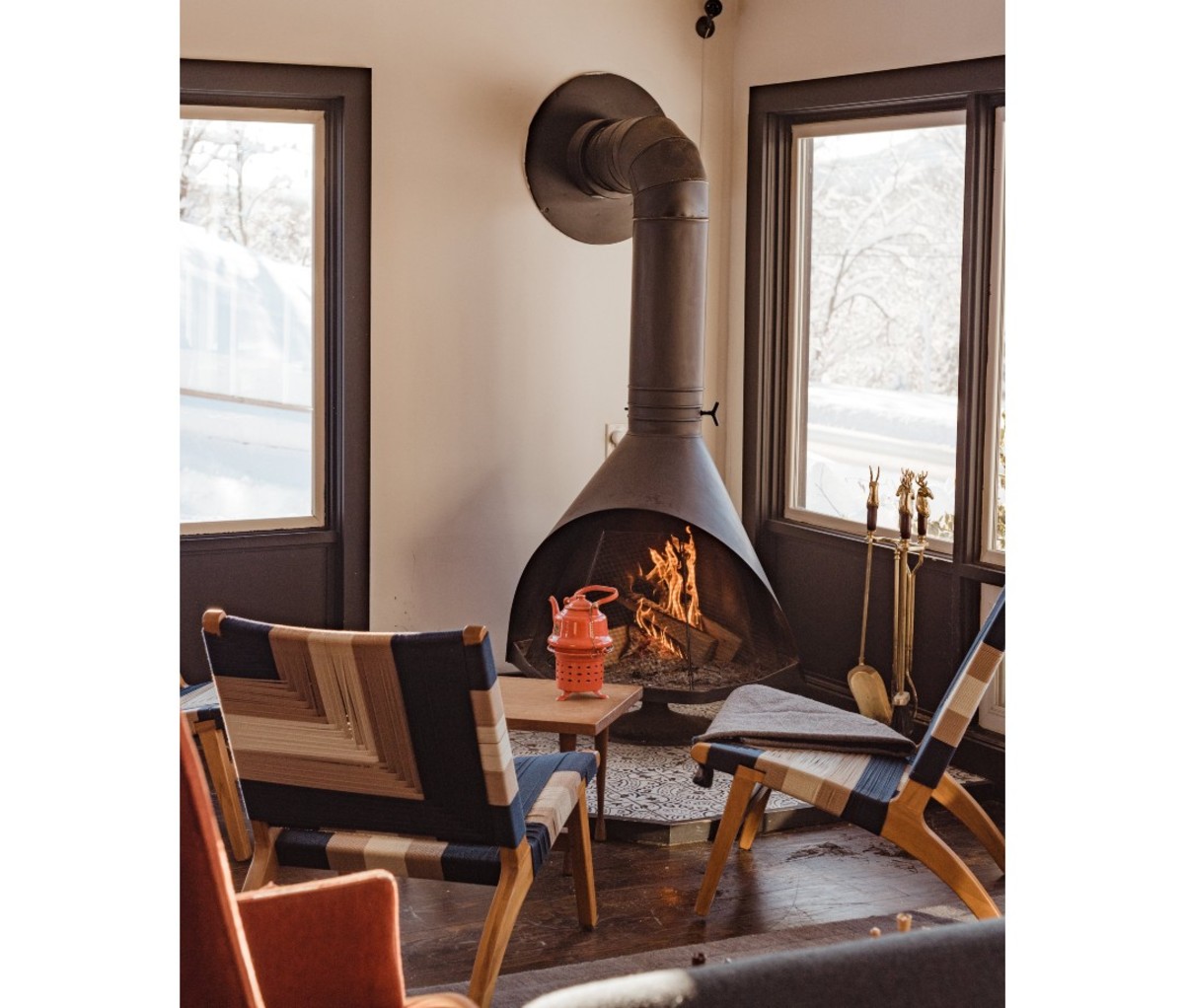 Eastwind Hotel — Windham: Past and Present
Currently, Eastwind Hotels has boutique properties in Windham, Lake Placid, and Oliverea Valley (its newest). Here at Windham, the eponymous mountain range serves as its playground. In 2018, Boyer purchased and converted a 1920s-era bunkhouse used by hunters, fly-fishermen, and outdoor enthusiasts with two partners, his wife, Julija Stoliarova, and Dan Cipriani (of Brooklyn's Sea Wolf).